Firefighter numbers fall in merged service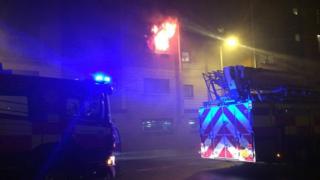 The number of firefighters in Scotland has fallen by almost 300, official figures have shown.
It follows the creation of the new Scottish Fire and Rescue Service (SFRS) in April 2013.
Figures compiled by Scotland's Chief Statistician showed 290 fewer firefighters - a drop of 4% - in the year after the merger of eight former regional brigades.
The number of support staff was reduced by 125, a fall of 12%.
Staff form a major part of SFRS total operating costs, which it was required to reduce in 2013/14 - although the Scottish government ruled out compulsory redundancies.
Voluntary severance
Support services were one of the key areas where efficiency savings could be made following reform, bringing together functions like HR which were previously organised separately by the eight regional fire and rescue services.
By the end of March 2014, total staffing had fallen during the course of the year from about 8,960 to 8,480. The figure included 70 people who left under a voluntary severance scheme.
Assistant Chief Officer Lewis Ramsay, SFRS director of prevention and protection, said staff were devoted to providing Scotland with a world-class service protecting communities from the harm caused by fire.
He said: "The unification of eight fire services has better served our communities in terms of preventing fires, making cost efficiency savings and educating the public as to how to prevent fires in the first place.
"These reductions have been achieved through effectively streamlining and deploying staff where and when they were needed throughout the country."
The figures show 60,000 smoke alarms were fitted during home safety visits in 2013/14 - an increase of more than a third on the previous year's total.
Attacks on firefighters
And they reveal the number of attacks on fire service personnel was down 12 to 69. The number of firefighters injured was down from four to two.
Since 2010/11, the number of incidents where attacks on firefighters have occurred is down by 60%.
Community Safety Minister Paul Wheelhouse said: "I am extremely pleased to see that attacks on Scottish firefighters are decreasing but there is still more work to be done.
"Even one attack on the hardworking men and women who often put their own lives at risk to keep the people of Scotland safe is one too many."