Police Scotland faces £6m proceeds of crime shortfall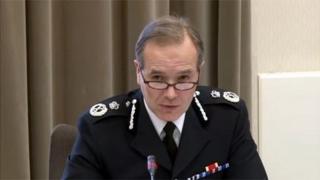 Police Scotland is facing a £6m shortfall in its budget because of delays in receiving cash under proceeds of crime (Poca) legislation.
Officers have exceeded their target to deprive criminals of at least £108m.
But Chief Constable Sir Stephen House told members of the Scottish Police Authority (SPA) that in many cases there was a "degradation" of value in the assets actually handed on.
He described the amount received by the force as "disappointing."
A financial report to the SPA board said: "The organisation has received £1.970m less income than the phased budget.
"The approved budget assumed the receipt of £6m of Poca monies and the profile of budgets assumed £2m would be received by 31 January.
"It is anticipated that this income will not be recovered by 31 March and mitigating action has been taken to offset this shortfall in funding."
Public purse
Sir Stephen told the meeting in Edinburgh that Police Scotland had carried out research into a small number of cases.
It had examined the value of the assets restrained under court orders, the agreed value put on them between the Crown Office and the individual involved, and the amount of money the court had said should flow into the public purse.
He said: "It's quite an illustration in terms of a "degradation" of value.
"Indicatively, we are starting off sometimes at hundreds of thousands of pounds and ending up with merely tens of thousands coming through to the public purse.
"Now if that is replicated across a large number of cases it starts to indicate there is a bit of an issue there."
He said police were working with the Crown Office and Procurator Fiscal service (COPFS) but the force had not yet seen the funds come through.
One possibility was that money - which the force is supposed to receive within 18 months - was taking longer to come through than expected.
Alternatively, it was coming through with a much lower value than police had anticipated.
Confiscation proceedings
The chief constable asked: "Are we over-estimating? Is there too much of a deterioration in the value as it goes through the system?"
He went on: "Are we being realistic in what we are expecting criminals to provide back from the state from the money that they've got through criminal means?"
Police Scotland was given a target by the SPA to "deprive criminals of a minimum of £108m through Poca legislation.
By February 2, 2015, it had reached a total of £113.1m.
SPA board member Paul Rooney said: "I commend Police Scotland for policing in this area over many years.
"The benefit is obviously seen not necessarily in monetary terms, but in terms of the impact it does have on serious and organised crime."
The Proceeds of Crime Act 2002 is used to disrupt serious organised crime in Scotland.
It allows enforcement authorities to track down and recover the profits of crime from individuals deemed to have benefitted from a criminal lifestyle.
It can also be used to retain the assets of a suspect at the start of confiscation proceedings, helping to disrupt further criminal activity.
If it is not possible to secure a conviction, and therefore serve a confiscation order, then civil recovery powers can be used to prove that on the balance of probabilities that property or other assets have been obtained through unlawful conduct.