Kiltwalk bosses defend running costs as partners quit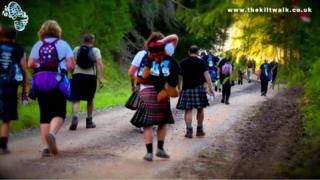 Organisers of the Kiltwalk have defended the Scottish charity event's running costs after losing several partner groups.
Four charities have withdrawn as official partners of the event in recent weeks. Two cited concerns about the amount of money reaching them.
The event's 2013 accounts show more was spent on costs than went to charity.
Kiltwalk bosses said costs had been inflated by a re-structuring of the organisation due to the event's growth.
The Kiltwalk was set up in 2011 with the aim of bringing Scotland's leading children's charities together for a series of sponsored walks.
It grew from 800 walkers that year to more than 12,000 across the country in 2014.
However, in recent weeks four charities - CLIC Sargent, Cash for Kids, Aberlour and Edinburgh's Sick Kids Friends Foundation - have withdrawn as official partners.
'Changed structure'
CLIC Sargent and Aberlour indicated to BBC Scotland that they had concerns over the amount of money reaching them from the Kiltwalk.
The most recent set of accounts for the Kiltwalk showed that from an income of just over £1.6m, £780,000 had been spent on running costs - more than the £776,000 which went to charity.
The event's chairman, Michael Ure, said the sum reaching such groups had been "diluted" by the fact events were increasingly focusing on supporting more local charities.
He said: "What has happened is we've changed the structure. When the Kiltwalk was first formed, all the money that we collected went to our six charity partners.
"In later years we understood that actually there was demand from kiltwalkers who wanted to give money to their local charity.
"The pot grew enormously in terms of fundraising, but this diluted the amount of money going to those six charity partners. There may have been an issue in communicating that to them effectively."
Mr Ure said the four former partners would still encourage people to take part in the Kiltwalk, and a number of other charities contacted BBC Scotland to voice support for the event.
'Freedom to operate'
Although there is a central watchdog in the Office of the Scottish Charity Regulator, there is no set figure or percentage of how much a charity can spend from its income on running costs. There is no suggestion that the Kiltwalk has broken any rules or regulations.
Fraser Hudghton from the Institute of Fundraising said it was important for charities to have "flexibility" in their running costs, but warned that a lack of transparency could be damaging.
He said: "It's essential that charities can spend their money wisely, and the vast majority of organisations do.
"Charities do a fantastic amount of work for people in need across Scotland and the amount of engagement is massive.
"Charities need freedom to operate in the way that ensures best results for the people they're helping. Increased bureaucracy is not the answer, and where there are issues of governance or question marks over running costs, that's a matter for the trustees.
"If they demonstrate a lack of transparency then people will vote with their feet. Where a charity falls foul of that the only people they will harm is their own beneficiaries, people on the ground who are in need."
'Scale of growth'
After it was revealed that the charity's chief executive is paid between £60,000 and £70,000, Mr Ure said salaries were benchmarked against other Scottish events companies. He said the Kiltwalk needed to "invest" in top staff, including people who worked on the Glasgow Commonwealth Games.
He said the "sheer scale" of the events meant more money had to be spent as the organisation grew.
He said: "We took a decision as a board and recognised the potential scale of growth we were facing and had to make a decision.
"If you're moving 6,000 people through the centre of Glasgow it has to be done safely and professionally, and it has to be fun - you want people to do it again."
Mr Ure said the group's ambition was for every pound brought in by the events to go to charity.
He said: "We are a long way from that, but the direction of travel is there. We had to take the decision to manage the volume and maintain the impetus. If we hadn't we'd be running perhaps unsafe events which weren't fun."