What is Scotland's punniest shop name?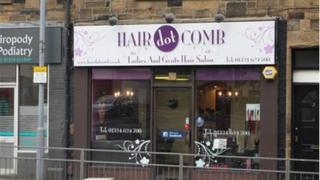 A hair salon in Falkirk has won a poll to find the shop name pun of the year.
Hair Dot Comb attracted the most votes from the 10 shop names on the shortlist compiled by the Local Data Company.
Another Scottish shop on the list was Glasgrow, a hydroponics store in Glasgow's Merchant City.
According to LDC's Matthew Hopkinson, independent shops can stand out and be different by using a pun in their name.
He said: "Having a memorable name alongside excellent service and products is an important way to retain the uniqueness in many of our high streets."
What is your favourite shop name? Send us a photograph and we'll stick the best in a photo gallery.
Email your pictures to newsonlinescotland@bbc.co.uk with the subject Shop names.
Here's a few we found to get you started: