Accounts body says Scottish councils will face further budget pressures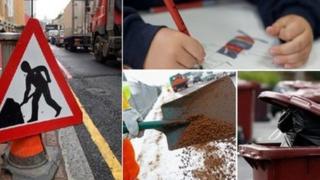 Scotland's councils will face financial pressures "of a scale not previously experienced" in the coming years, the public spending watchdog has said.
The Accounts Commission said councils had coped well so far with cuts to their funding.
But it warned that budgets would become even tighter in the future.
And it said council debt repayments to the private sector would peak at a time when they are set to face unprecedented demand for services.
The Commission said annual repayments to the Scottish government's non-profit distribution (NPD) public-private partnership debt - and its private finance initiative (PFI) predecessor - are predicted to rise from £488m to £600m by 2024/25.
By this time, demographic pressures caused by an ageing population and more children will be rising.
English councils
The commission said Scottish government funding for councils had decreased by 8.5% in the last four years, and many councils were now reporting gaps between their income and the cost of providing services.
English councils have faced more severe cuts by the UK government with a 37% reduction over five years.
Scottish councils face increasing demand to implement SNP priorities such as the council tax freeze, free personal care, housing standards, class sizes and other legislation and national policies.
Pressure also comes from other areas, including;
future spending commitments such as financing NPD/PFI debt
other borrowing
rising pensions
equal pay costs
and other liabilities.
The Accounts Commission said: "Annual interest and debt repayments have increased from £946m in 2009/10 to £1.5bn in 2013/14, with repayments for PFI and NPD contracts totalling £488m in 2013/14 and predicted to peak at around £600m a year between 2024/25 and 2027/28.
"Population projections indicate that there will be increasing demand for council services at the same time as financing charges are anticipated to peak."
Scotland's population is rising by 0.2% a year, with over-65s expected to rise from 17% to 25% by 2037 putting pressure on social care and housing, and a 5.5% rise in children putting pressure on schools.
Midlothian Council alone, one of the smallest councils, thinks it will need 300 extra care home places at a cost of £6m a year.
Some councils have increased or introduced new charges for services, but spending on services has decreased by 1%.
Council reserves fell by 2% in 2013/14 following several years accumulation.
It is not clear if the planned savings of councils will be enough to cover the reported gaps in funding or if they will need to make more savings, the commission said.
Edinburgh Council is considering 1,200 staff cuts and working with voluntary groups to plug the gap.
Almost all councils' auditors have indicated risks to the administrations' financial positions in the medium to long term.
Specific risks include councils spending more money than planned, not making planned savings, unexpected compromises on the quality of services, an inability to meet demand for services and inadequate funds in their reserves.
'Welfare reforms'
Rent arrears increased by 24% between 2012/13 and 2013/14 despite £29.4m of government discretionary housing payments (DHPs) handed out last year.
The commission said: "This may, in part, be a result of welfare reforms.
"So far, councils are managing the impact of welfare reform and many are spending money on support for people affected."
Douglas Sinclair, chair of the Accounts Commission, said: "Councils have coped well so far. But they will face pressures beyond next year of a scale not previously experienced, as budgets become even tighter and demands on services continue to increase.
"The challenge for councillors is to make best use of the money that is available and to take difficult decisions now to avoid storing up problems for the future.
"Regular reviews of governance are essential due to continuing changes in council staff, management and political structures and delivery models, such as the use of arm's-length external organisations and the new health and social care partnerships."
'Value for money'
Councillor Kevin Keenan, finance spokesman at council umbrella group Cosla, said: "Scotland's councils should be applauded by communities for the job they have done in protecting them because, despite the financial difficulties and extreme budgetary pressures local government feels year on year, Scotland's councils - based on their individual need and local priority - have done their utmost to protect frontline services and ensure to the best of their ability that the service user does not suffer.
"As the report points out it is also fair to say that this is going to get even tougher in the next few years and just like in previous years, really, really difficult decisions will need to be taken by Scotland's councils.
"That is why councils need to be far more empowered in relation to the resources that they have at their disposal."
The Scottish government said it continued to give councils a good deal "despite the impact of the UK government's cuts to the Scotland's budget".
A spokeswoman: "Local authorities have a duty to use resources as efficiently and effectively as possible to ensure taxpayers get the best possible services and value for money. We would expect all councillors to consider this report and any necessary action to implement its recommendations."