'Prophetic figure' - Political reformer Thomas Muir remembered 250 years on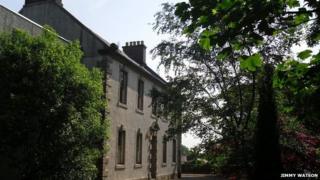 With campaigning for the 2015 general election beginning to really heat up, the legacy of an 18th Century political reformer has managed the seemingly impossible, bringing figures across the political spectrum together.
Thomas Muir was born 250 years ago and lived near present-day Bishopbriggs. Among other things he advocated extending the voting franchise.
He was transported to Australia, escaped from there and ended his days in France, aged just 33. Now plans are afoot, involving figures from different political parties and others, to mark the anniversary.
On the edge of Bishopbriggs what was once the family home of Thomas Muir of Huntershill now lies empty.
"As a child I would play here," says Jimmy Watson looking around the site. He grew up opposite the Muir house and is now chair of the "Friends of Thomas Muir" as well as co-ordinating "Thomas Muir 250".
He first heard of Thomas Muir from his father but it took a while for him to become really interested.
"I thought well he can't be that important if we didn't learn about him in school or people aren't talking about him," he recalls.
"In my naivety I didn't know there was a 90ft monument at Carlton Hill in Edinburgh.
"I started to look at - do I think my right to vote's important? I realised there's a journey here. How did we get to the stage where we're talking about 16 and 17 year olds, should they have the right to vote?
"So if that's the democratic timeline how did Thomas Muir fit into that? From a Scottish context Thomas Muir was right at the forefront of this and he really put his neck on the line."
Thomas Muir trained as a lawyer. His belief in reform encompassed his local church congregation, activism at Glasgow University and by the 1790s he was advocating the extension of the franchise and other political reforms.
With France convulsed by revolution, all of this made the British authorities very nervous. Thomas Muir was put on trial on charges of sedition.
"Thomas Muir's trial was a great focal point in Scottish history," says Don Martin, a retired librarian and local history enthusiast.
"He decided to play the authorities at their own game and he would use the vehicle of a political trial to put forward his own opinions on democracy.
"Someone was really standing up to be counted, to have the kind of democracy that to be honest in Scotland we had never had."
Reports of what Muir said at his trial went round the world. The sentence was transportation to Botany Bay for 14 years. He later escaped, travelling, with many adventures along the way, to South and North America and then back across the Atlantic.
"He spends his final couple of years in France hobnobbing with the United Irishmen," says Prof Gerard Carruthers of Glasgow University.
"Men like Thomas Paine and other revolutionaries who want to spread the French messages of liberty, equality and brotherhood."
He describes Thomas Muir as a reformer who ended up as a revolutionary, someone whose legacy is wide.
"Everyone today who truly believes in democracy owes something of a debt to Thomas Muir and to men like him in the 1790s.
"He is a harbinger of democracy, to some extent he is a prophetic figure. Certainly he's one of the architects of democracy for Scotland and Britain and we owe the man a great deal."