'Dangerous' bow and arrows stolen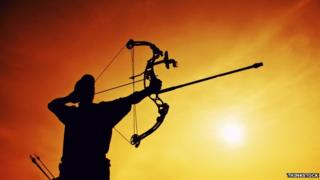 A "highly dangerous" bow and arrows set which is said to have armour piercing capability has been stolen from a competition archer.
The compound PSE Supra Pro Series bow was taken from a parked car in Caithness Place, Kirkcaldy, between 22:00 on Friday and 10:00 on Saturday.
A bag with about 20 arrows and a camouflage jacket were also stolen.
Police are "very concerned" by the theft of the bow, which can fire arrows at 90m/s.
The bow is black and red and has a telescopic sight attached. The arrows are about 70cm long.
'Safety protocols'
The cost of a Supra Pro Series bow is almost £560 and the owner has also offered a £100 reward for the return of the items.
PC John Weir said: "This is a professional competition bow which is very powerful and has armour piercing capability.
"Whoever has it may not know how powerful it is.
"The owner is a member of archery clubs, which have safety protocols in place for its use. It is highly dangerous and must be handled by an expert.
"We are very concerned about the whereabouts of this bow and are appealing for its quick return."