Call for more new housing investment in Scotland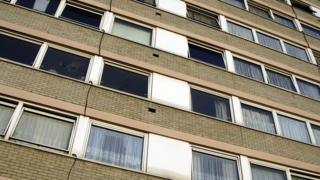 Investment in housing could address a growing crisis in Scotland's health and inequality, a conference will hear.
The former Auditor General, Robert Black, will say that spending on housing should be seen as a preventative measure.
He will tell the annual Chartered Institute of Housing (CIH) conference in Glasgow bad housing has the potential to damage lives.
Charities said 13% of households were affected by dampness or condensation.
Mr Black is to address delegates on Wednesday as chair of the Housing and Wellbeing Commission, established by Shelter Scotland to recommend national housing priorities and policies to improve the lives of Scots.
'Housing crisis'
Speaking ahead of the conference, he said significant savings to future health service, social care services, homelessness and other budgets could be made if Scotland invested in housing now.
"Our society faces major challenges in responding to the consequences of a chronic housing crisis now and in the future," he said.
"Today, a serious lack of affordable housing and poor quality housing continues to damage the health and life chances of thousands of families and individuals in Scotland.
"To avoid a health and inequality time bomb, Scotland must build more homes and improve the quality of existing stock. Only then can it ensure the wellbeing of its people."
Scottish government figures suggest about 13% of households are affected by dampness or condensation - or both - while 39% (940,000) are in fuel poverty.
Shelter said recent attempts in England to quantify the monetary cost of poor housing to the NHS had estimated it to be at least £600m per year.
It is also estimated that each incident of repeat homelessness costs up to £15,000.
Mr Black added: "The impact bad housing is having on the next generation has the potential to devastate lives.
"But equally, the rapidly growing population of older people, which is already placing significant demands on the NHS and other services, need resources and preventative housing services to ensure they can stay in their homes for as long as they need.
"Investment in housing is investment in people and the future prosperity of Scotland."
David Ogilvie, CIH head of policy, said more houses were needed urgently.
Affordable homes
Speaking on the BBC's Good Morning Scotland programme, he said: "We already have a situation where there is not enough supply.
"We are building half of what we need to across all tenures. We only built in 2013/14 around 16,000 homes.
"We have 180,000 currently on local authority waiting lists, but there will be others who are on housing association lists."
The Scottish government said it planned to spend more than £1.7bn by 2016 on delivering 30,000 affordable homes, and had already reached 80% of that target.
A spokesman said abolition of the Right to Buy would protect up to 15,500 homes over the next 10 years.
Granted exemption
The Scottish Housing Regulator (SHR) has published its annual report on the progress being made by social landlords in bringing properties up to national standards.
The Scottish Housing Quality Standard (SHQS) was established in 2004, with the aim that all social landlords - local authorities, housing associations and housing co-operatives - should meet its criteria by April 2015.
The SHR report says 502,518 properties (85.4%) met the standard at the end of March 2014, with a further 9.9% having been granted an exemption by the government.
During the year, landlords made improvements to 90,935 properties, of which 62,294 were brought up to the SHQS. Total investment was more than £350m,
SHR chief executive Michael Cameron said the indications were that all properties still requiring to be upgraded would be improved by the 2015 deadline.