BBC Scottish Symphony Orchestra names new conductor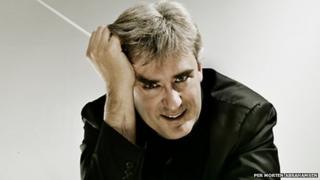 Thomas Dausgaard has been named as the new chief conductor of the BBC Scottish Symphony Orchestra (SSO).
Mr Dausgaard will take over from Donald Runnicles as the orchestra's chief conductor in September 2016.
The announcement comes as the orchestra launches its 2015/16 season, in which it will celebrate its 80th birthday.
Mr Dausgaard, who is from Denmark, has appeared with orchestras around the world.
He is currently chief conductor of the Swedish Chamber Orchestra, principal guest conductor of the Seattle Symphony and honorary conductor of the Danish National Symphony Orchestra.
He has also appeared as a guest conductor with the SSO. Mr Dausgaard will take up the chief conductor post on a three-year contract.
He said: "The infectious joy of making music with the BBC SSO makes it a great honour and pleasure to become its chief conductor from 2016/17.
"I am a fond admirer of the orchestra's creativity, team spirit and excellence, and I look forward very much to exploring all the exciting possibilities which lie ahead of us."
During the 2015/16 season, Mr Dausgaard will conduct the orchestra on Sibelius' three final symphonies and Brahms's First Piano Concerto.
Current chief conductor Mr Runnicles will open and close the season with performances of Gustav Mahler's first and last symphonies.
Although stepping down as chief conductor, from September 2016 he will continue to work with the orchestra as conductor emeritus.
Other highlights of the season include the orchestra performing the music of some of Alfred Hitchcock's most celebrated composers, and opening the Edinburgh International Festival.
BBC Scotland director Ken MacQuarrie said: "Creativity is the lifeblood of the BBC Scottish Symphony Orchestra. Thomas Dausgaard will ensure the orchestra continues to be one of the most dynamic and boundary-pushing orchestras in Scotland and the world."
The orchestra will celebrate its 80th birthday in December with a special concert which includes a UK premiere from Matthais Pintcher, the BBC SSO's Artist-in-Association, as well as Mozart's Oboe Concerto and Mahler's Das Lied von der Erde.