Insults with a smile at First Minister's Questions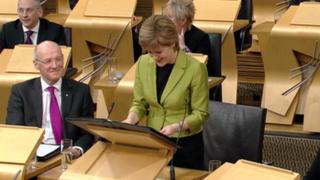 Perhaps they were preparing for Comic Relief. Certainly, there was laughter aplenty in the Holyrood chamber today as MSPs exchanged insults. (You'll find it in the Business Bulletin, listed formally as "Questions to the First Minister").
Kezia Dugdale chortled mightily when Nicola Sturgeon suggested that Labour's "patriotic stance" in defence of Scottish interests - endorsed at the weekend party conference - seemed to be short lived.
The Conservative benches guffawed in unison when the FM declared that the most fervent applause for Ms Dugdale's arguments on public spending had come…. from the Tory benches.
And there was widespread giggling among Labour and the SNP when Willie Rennie said that the UK economic record was sound.
But, as you may have already discerned, the available humour was fairly sharp. Decidedly noir. So noir in fact that one would almost think there was an election looming.
Ms Sturgeon's declared aim of seeking consensus appears to be on pause for now. Resume attack mode. She said that the voters could not wait to give the Conservatives "a complete doing." Is that Parliamentary? For now, yes.
And she went further, deploying what she plainly regarded as the ultimate insult. She suggested that Kezia Dugdale, who deputises at the head of Scottish Labour, was a Tory.
OK, that is slightly adapted. The FM suggested that both Labour and the Tories, if in charge at Westminster, would generate varying degrees of cuts in public spending over the lifetime of the next Westminster Parliament.
They were, in that regard, identical.
Fiscal autonomy
For her part, Ms Dugdale's endeavour was to posit a distinct contrast between her (pro Union) position and Ms Sturgeon's support for independence or, as an interim, full fiscal autonomy.
Such a project, said Ms Dugdale, would involve scrapping the Barnett Formula which, she implied, was relatively generous to Scotland in terms of public spending. The SNP plan was "austerity max".
She based this argument on the GERS figures, published yesterday, which suggested that the deficit in Scotland was larger as a percentage of GDP than the equivalent figure for the UK. Ms Dugdale projected some eye-watering figures: billions lost to Scotland, equivalent to 138,000 jobs.
This drew more laughter. From the SNP benches. Of the "come off it" variety. Ms Sturgeon said that Scotland benefited from lower unemployment and higher employment from elsewhere.
However, other party leaders seemed to feel that answer fell short or, perhaps, dealt with the extant situation rather than future plans. Ms Sturgeon has suggested a "modest" increase in UK public spending - 0.5% a year in real terms, releasing £180bn of public investment.
Under such a scheme, said Ruth Davidson of the Tories, when would the UK deficit be eliminated? Which year?
Further, she challenged her on the IFS interpretation of the GERS figures. (Which was tax rises or spending cuts in Scotland under fiscal autonomy.)
According to the FM, Ms Davidson had been economical with the quotation. The IFS had added that such a scenario could be prevented by "credible policies" to boost growth. That, said the FM, was the point. Such policies would emerge under independence.
On shrinking the deficit and overall debt, she said bluntly that she took a different approach from the Tories - and, she implied, other parties.
Thus far, it was a robust performance from the FM. She had her colleagues smiling benignly. When, that is, they were not laughing at their opponents.
Up popped Willie Rennie to point out that the Scottish government had seemingly revised their statement that debt could still be reduced - although not eliminated - with spending up each year by 0.5%, generating £180bn.
The figure now, apparently, was £160bn. Ms Sturgeon shrugged this off. She was willing to compromise with Mr Rennie at 160. "Did I say £180bn? To you, Willie, 160. You look a decent gent. Final offer."
It was not all chirpy, however. Ms Sturgeon also noted in passing that the Lib Dems might prefer a period of silence on the subject of finance, given the latest questions posed by The Telegraph about party funding.
Either way, by the close, Ms Sturgeon had returned, confidently, to basics. Never mind GERS, IFS, VAT, OMG, LOL. Vote for any of the other lot, she said, and get cuts. Vote for the SNP - and don't.
The election contest may be somewhat more nuanced. But the Holyrood stage - right now - is no place for subtlety.