Fred Talbot: Police submit report to Scottish prosecutors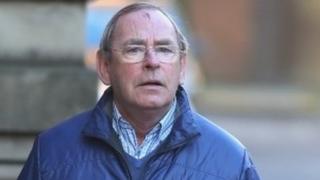 Police investigating incidents of alleged abuse involving former TV weatherman Fred Talbot have submitted a report to Scottish prosecutors.
A spokesman for the Crown Office said a report was handed into its Dumfries office relating to incidents involving a 65-year-old man.
The offences are said to have occurred between January 1968 and January 1981.
The report is currently under consideration by the procurator fiscal.
Talbot, 65, who was born in Edinburgh, is due to be sentenced in Manchester on Friday after being convicted last month of two indecent assaults on teenage boys.
The victims had been pupils at Altrincham Grammar School, where Talbot had been a biology teacher in the 1970s.
The two teenage boys had gone on canal boat trips with Talbot.
Talbot, who was cleared of eight other indecent assault charges, was remanded in custody after being found guilty by a jury.