Health chiefs call for better care for pregnant women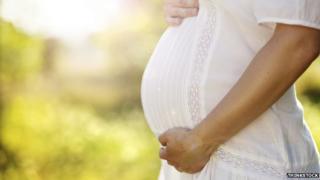 Senior medical professionals in Scotland have called for improvements in the care of pregnant women and new mothers.
Ten in every 100,000 pregnancies in the UK and Ireland results in the death of the mother.
Health chiefs, including the acting deputy chief medical officer for Scotland, have created a list of recommendations.
The group now intends to raise awareness throughout the health sector.
A study, published in December last year, found 74% of all mothers who died as a result of pregnancy had a history of medical or mental ill health.
Flu vaccination
Dr Frank Dunn, president of the Royal College of Physicians and Surgeons of Glasgow, told BBC Radio Scotland: "There is a real opportunity there to capture these patients and to advise them during pre-pregnancy counselling and to let them know about the importance of some medication.
"There is understandably a fear among both the patients and the health professionals that they may not be able to give this medication.
"They may not - for example - be able to give a flu vaccination during pregnancy, which would actually save about half of the deaths due to influenza."
The December report by MBRRACE-UK into maternity care in the UK and Ireland, entitled Saving Lives, Improving Mothers' Care, found that a third of the deaths had been as a direct consequence of pregnancy, with complications such as pre-eclampsia or bleeding to blame.
The remaining two thirds - 68% - of deaths were the result of medical and mental health problems, including suicide and flu during or soon after their pregnancy.
Dr Catherine Calderwood, the Acting Deputy Chief Medical Officer for Scotland, and leading doctors from the Royal College of Physicians and Surgeons of Glasgow and the Royal College of Physicians of Edinburgh have called for improvements in care.
Education programmes
Following a meeting, the group put forward a position statement and recommended:
• Better strategies for the prevention of ill health in pregnant women such as flu vaccination and lifestyle advice
• Better education programmes for patients with medical and mental health issues who are planning pregnancy or who are pregnant
• Careful assessment of pregnant and postpartum (directly after the birth of a child) women who feel unwell, especially if their symptoms fail to settle
• Pregnant and postpartum women who arrive at hospital complaining of ill health should be "red flagged" and assessed by consultants in both medicine and obstetrics before discharge
• Health professionals must have a low threshold for seeking expert help for pregnant and postpartum women, whether it be in regard to their symptoms, investigations of their medicine, or other aspects of their care.
The MBRRACE-UK report concluded that in the last decade, the number of women dying from complications directly associated with pregnancy had almost halved from a peak of 6.24 per 100,000 in 2003-2005 to 3.49 per 100,000 in 2009-2011.
However, the number of women who died following medical or mental health problems has not seen any significant decrease in the past 10 years. The figure was 7.76 per 100,000 in 2000-2002, compared to 7.15 per 100,000 in 2009-2011.
Dr Calderwood said: "While maternal deaths are very rare, the effects it has on a family are tragic. It is encouraging to see that the number of cases is continuing to decrease. However, we must continue to drive improvements to reduce the rate even further.
"I welcome both the suggestion that collaboration across health services is key to improving care and outcomes for pregnant women, and the proposal for a position statement from the Royal College of Physicians and Surgeons of Glasgow as a positive step in improving patient safety."