UK mackerel exports 'up by 44%'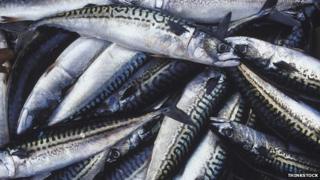 UK exports of mackerel rose by 44% between August and December, despite fears over the impact of a Russian trade ban.
It imposed the embargo on food imports from the EU and US in response to sanctions over Ukraine last August.
The move particularly affected mackerel fishermen.
However, new UK government figures showed that exports to Nigeria rose by almost £17m on the same period in 2013. Exports to China were up by nearly £5m.
Total exports increased by £29m to £115m over the year.
Environment Secretary Elizabeth Truss said: "I was determined to do all we could to support our mackerel fishermen in the face of this unjustified ban.
"This is great news for our fishermen and shows when it comes to quality produce, Scotland and the rest of the UK are leading the pack."
Scottish Food Secretary Richard Lochhead said: "This significant rise in mackerel exports is great news and shows how well the sector is responding to the challenge of the Russian Trade Sanctions.
"We are committed to supporting our fishermen and today's figures are good news for them and the Scottish economy."