Police probe 'hang Sturgeon' tweet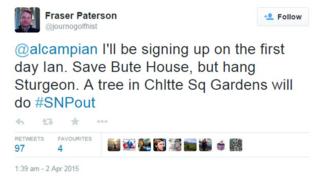 Police are investigating a comment on social media suggesting that the Scottish first minister and SNP leader Nicola Sturgeon should be hanged.
A message sent on Twitter by a freelance sports journalist, Fraser Paterson, said Ms Sturgeon should be hanged from a tree in Charlotte Square Gardens in Edinburgh.
The gardens are outside Bute House, the first minister's official residence.
Mr Paterson has since tweeted that he had crossed a line.
He said his comment was unprofessional and he meant no harm to Ms Sturgeon.
His original tweet had said: "..Save Bute House, but hang Sturgeon. A tree in Chltte Sq Gardens will do #SNPout".
He subsequently tweeted: "My 'hang Sturgeon' comment was over the white line and unprofessional of me. I mean no harm to her".
A spokeswoman for Police Scotland said they had received a complaint about the original tweet and were looking into it.