Scottish nurses 'training during holidays', RCN says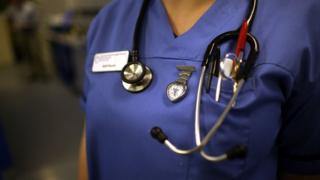 Staff shortages mean some nurses missed mandatory training last year or had to use their annual leave in order to complete it, according to a survey.
The Royal College of Nursing (RCN) study said 9.4% of Scotland's nurses completed mandatory and statutory training in their holiday time.
And 27.5% did not receive all of the training they should have last year.
The Scottish government said it was committed to giving nurses the support they need to meet increasing demand.
Health Secretary Shona Robison said: "To do this we have increased the number of nurses and midwives working within the NHS in Scotland by 5.6% during this parliament to a new record high level of more than 43,000 WTE qualified nurses and midwives.
"We are also continuing to invest in a range of work to ensure we recruit and retain the right number of staff, and equip them with the skills they need to provide high quality care.
"Through NHS Scotland's ground-breaking Nursing Workforce Planning Tools, which were developed in partnership with nurse unions, health boards are able to inform decisions about the number of nurses needed for particular clinical areas, this includes an allowance for staff study leave within work time."
Dedicated time
The RCN study found that, of those nurses who undertook mandatory or statutory training, or continuous professional development (CPD), over half (54.7%) said no cover was provided while they were absent from duties.
The survey of 1,346 nurses in Scotland was carried out as part of a UK-wide survey by the Royal College of Nursing (RCN) between 11 and 29 March.
RCN Scotland has called for dedicated time to be set aside for nursing staff to complete training and CPD.
Associate director Ellen Hudson said: "We all know how overstretched the NHS in Scotland has become, and this survey only goes to highlight just how much pressure it is under.
"When nurses are put in the position that they either do not undertake mandatory training in areas such as infection control, or they use their annual leave to do so, it's obvious things are tough."
The RCN called on health boards to ensure that nursing staff are not only up-to-date with mandatory and statutory training, but are also supported to continue to develop their skills and expertise through CPD.
"It is imperative that our nursing teams keep up-to-date with advances in healthcare," she added.