LGBT charter tackles homophobia in Scottish sport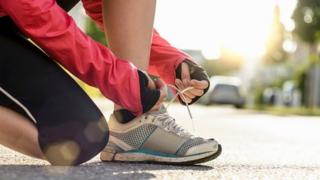 A charter aimed at tackling homophobia in sport has been unveiled in Glasgow.
The move by the Equality Network sets out principles for better inclusion in Scottish sport for lesbian, gay, bisexual and transgender (LGBT) people.
It follows a study which found members of the community would be more likely to get involved, if sport were more LGBT friendly.
The Scottish Football Association (SFA) and Sportscotland are among the bodies that have signed up to the charter.
It was unveiled at Hampden Park, Scotland's national football stadium, on Wednesday.
'Significant barriers'
The Equality Network, Scotland's national LGBT equality and human rights charity, commissioned the Out for Sport report in 2012.
It found "significant barriers" for LGBT people participating in Scottish sport and "little to no action being taken by sports bodies to reduce those barriers".
Three years on, a number of leading organisations have signed up to the charter including Team Scotland, Scottish Athletics and Waterski Scotland.
The Equality Network said that a number of other organisations were also likely to get involved over the coming months.
---
Terms of the charter
Sports bodies that sign up to the charter are committed to helping ensure that "Scotland will be a country where everyone can take part, enjoy, and succeed in sport at all levels whatever their sexual orientation and gender identity".
It sets out five principles:
Take steps to actively involve LGBT people in sport.
Challenge homophobic and transphobic behaviour.
Develop policies and practices that are inclusive.
Begin to reduce the barriers which prevent transgender people from taking part in sport in their acquired gender.
Strive to make continuous improvements to greater include LGBT people in Scottish sport.
---
Scott Cuthbertson, development coordinator of the Equality Network, said: "We know through our research that LGBT people in Scotland still face significant barriers to full inclusion in sport.
"The charter is an important step to addressing those barriers and commits those involved in the delivery of sport to taking practical action to tackle discrimination and increase LGBT involvement."
Stewart Harris, chief executive of Sportscotland, said: "We are building a world class sporting system for everyone in Scotland and we view this charter as an important step in that journey."
Stewart Regan, chief executive of the SFA, said; "The Scottish FA is proud to sign this charter and is committed to increasing accessibility and opportunities for all.
"The national sport will work in partnership to engage and inspire the LGBT community."