Sir Malcolm Rifkind calls for powers commission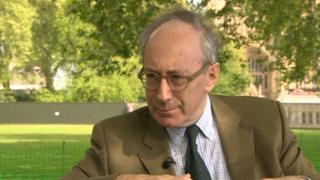 Sir Malcolm Rifkind has called for a Royal Commission to consider giving more powers to all parts of the UK.
The former Conservative cabinet minister was reacting to SNP leader Nicola Sturgeon's claim that Holyrood should gain more fiscal autonomy.
Ms Sturgeon wants powers beyond those agreed under the Smith Commission.
Sir Malcolm also rejected any suggestion that the Conservative majority across the UK was won on the back of an anti-Scottish rhetoric.
Ms Sturgeon, Scotland's first minister, has called for new tax and welfare powers to be devolved to Scotland as a "priority".
Speaking to the BBC's Andrew Marr programme, she argued for devolution of powers over business taxes, employment, the minimum wage and welfare.
Sir Malcolm told BBC Scotland's Sunday Politics that time should be taken to consider the next steps.
He said: "This is early days. You don't make major pronouncements about the future within 48 hours of a general election. The stakes are too high."
Fair to all
The former Scottish Secretary said there was a need for a new constitutional settlement for the UK as a whole, with greater decentralisation to the cities and regions of England also on the agenda.
Sir Malcolm said: "I think you need to have something like a Royal Commission reporting on how we can draw these threads together. The test should be what is fair to all the countries of the United Kingdom."
He added: "You can never have a truly federal system like the United States or Germany because England is too large. England is 85% of the United Kingdom. You can't have an English Parliament and England does not want to be sub-divided into regions, each with their own parliament.
"But you could go some way in that direction. You can have a quasi-federal system. Because you don't needed uniformity."
Sir Malcolm said he did not believe there had been anything anti-Scottish about the Conservative election campaign.
He said: "There was no anti-Scottish rhetoric at all. There was a clear duty, given the position the Nationalist party had adopted, to make sure everyone throughout Britain understood what they were saying."
Sir Malcolm said David Cameron did not invent the possibility of the SNP landslide in Scotland.
He also rejected the notion that English Votes for English Laws (Evel) was anti-Scottish.
He said: "I have yet to meet anyone in Scotland who says it is unfair that, on purely English issues, English members of parliament should have the last word. You tell me what is anti-Scottish about that."