Death certificate system overhauled in wake of scandals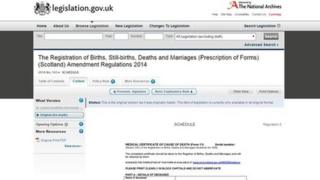 Bereaved families who want to have a relative cremated will no longer have to pay £170 for medical forms following an overhaul of death certification.
The new system to improve how information about deaths is recorded has come into force in Scotland.
Changes to the process were originally recommended in 2005 in the wake of the Harold Shipman scandal.
The Certification of Death Act ends fees for cremation forms which cost bereaved families about £5.5m a year.
For the first time, relatives also have the right to request a review of the information on a death certificate.
'Contrary to guidelines'
Last year an inquiry into an outbreak of Clostridium difficle (C. diff) at the Vale of Leven hospital in Dunbartonshire found that the infection was not mentioned on the death certificates of 10 out of 34 victims.
It also found the majority of certificates were signed by a junior doctor rather than a consultant, contrary to NHS guidelines.
Dr Shipman falsified details on death certificates while murdering up to 250 patients between 1971 and 1998, becoming Britain's biggest serial killer.
An inquiry recommended an overhaul of the death certification process to stop any malpractice and ensure there is proper scrutiny whichever method of funeral is chosen.
Earlier this year the Royal College of Pathologists criticised the long delay in introducing reforms recommended by the inquiry.
The Certification of Death Act is designed to improve the quality and accuracy of death certificates. Reviews of death certificates will be carried out by Healthcare Improvement Scotland - an existing NHS organisation which regulates hospital care.
Some death certificates will be randomly checked to make sure they have been completed correctly.
Minister for Public Health, Maureen Watt, said: "It's important that the death certification process is rigorous.
"The recorded information should be both correct and sufficiently detailed that it can improve future health care for families and communities. By improving the certification process we can ensure this continues to be the case.
"In the rare cases where a family has concerns or complaints about what has been included on the death certificate, it's entirely right that they should be able to request a review. For that reason we have introduced a right to an independent review of the death certificate."
Similar changes to the rules regarding death certificates are proposed in England and Wales, but Scotland is the first UK nation to bring in legislation.