Call for new ambulance fast-response system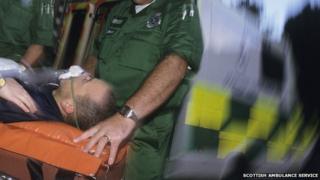 A senior Scottish paramedic has called for a new system of targets for ambulance response times.
Anthony Haley, a team leader in the Scottish Ambulance Service, said targets should be adjusted to reflect which incidents need a fast response.
The Scottish Ambulance Service said it had already made changes to ensure the most appropriate response takes place.
Mr Haley said: "Many, many hundreds of thousands of people (are) caught up in a system that is not fit for purpose."
999 calls in Scotland are split into three categories:
Category A - potentially life threatening incidents, which have a target response time of eight minutes
Category B - serious but not life threatening incidents, which have a target response time of 19 minutes
Category C - non-serious incidents which may get an ambulance within one hour but will sometimes be referred to another agency, such as the telephone helpline NHS 24.
Speaking to Ambulance UK magazine, Mr Haley said there should be a move away from a heavy focus on speed, in favour of other "evidence-based" measures of quality.
He said stroke patients are one category of people who could safely wait longer.
'Scaremongering agenda'
At the moment a suspected serious stroke is classified as a Category A call, requiring an ambulance within eight minutes.
"Very robust evidence over recent years has shown that it doesn't really matter if an ambulance gets to a stroke patient in five minutes or 25 minutes," said Mr Haley.
"What is crucial is that someone gets there quickly and takes the patient to a skilled centre within an hour of the onset of symptoms. That's it.
"But the sensationalist media we seem to have in this country fuel the aforementioned furore and help the scaremongering agenda."
There is currently a fierce debate in health circles about the way ambulance services organise and measure response times.
The Scottish Ambulance Service has already made changes including the use of more clinical targets, but its response times for urgent calls remains the focus of public attention.
Last December the Labour party criticised the government in Westminster after leaked documents showed the ambulance service in England was planning to re-categorise some types of calls, although some medical organisations supported the changes.
Mr Haley said that while ambulances were occupied with getting to unnecessary calls quickly, other people were dying because of a lack of resources.
Performance measures
He said the current system was designed to "try to allow over-stretched ambulance services to seem like they are doing well".
A spokesman for the Scottish Ambulance service said: "While the response time is an important aspect of patient care, effective clinical triage and clinical expertise of ambulance teams is key to maintaining good patient outcomes.
"This is reflected in the introduction in recent years of clinical performance measures such as cardiac, resuscitation and stroke treatment."
The spokesman pointed out that ambulances used to be dispatched to 999 calls on a "first-come first-served" basis but that now each call is assessed and prioritised.
"The current system, supported by clinicians in the Ambulance Control Centre, establishes the priority of the response based upon the clinical needs of the patient.
"Specially trained call-takers will elicit as much information as possible so that calls are effectively triaged and the most appropriate ambulance response takes place.
"This means that ambulances respond as quickly as possible to those potentially most serious cases, but have more time to respond to less serious situations."