Family's pet dogs 'die after being fed antifreeze'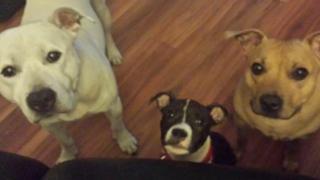 Police have launched an investigation following reports a family's pet dogs were killed by being fed poisoned chicken.
Three Staffordshire bull terriers are thought to have eaten antifreeze laced meat between 7 and 14 April in Springburn, Glasgow.
The dogs, called Diesel, Crystal and Buddha, were in the garden of their owner's house at the time.
An online fundraising page has been set up to help pay the vet bills.
'Antifreeze'
A web post from the family said: "Diesel, Crystal and little Buddha have been fed chicken laced with anti-freeze which has sadly ended their lives.
"Buddha passed away last week and Diesel fought for two days but sadly passed away.
"Today Crystal's blood results confirmed she also has poison in her system and there's nothing we can do. She's been brought home for our family to say goodbye.
"Karen and the kids are devastated. Our hearts are broke. Your paw prints have left a mark on all our hearts little ones. "
'Kindness'
A commenter called Karen Welsh, thought to be the distraught owner, wrote: " I can't thank you all enough for your kindness and support, you're forever in our hearts."
A spokeswoman for Police Scotland said: ""We can confirm that we have received a report of dogs being poisoned by antifreeze between 7 and 14 April 2016, and inquiries are ongoing into this matter.
She added: "We have been informed that two dogs have died as a result of this."