First Bus order boost for Falkirk firm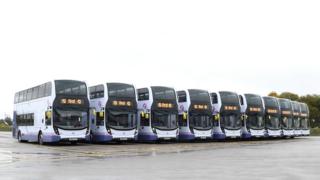 First Bus has ordered 305 buses, more than two thirds of them built by Alexander Dennis, of Falkirk.
Most of the others are to built by Wrightbus of Northern Ireland.
Aberdeen-based transport company FirstGroup says the deals are worth a total of £70m.
The orders should bring the total spent on modernising the firm's fleet over six years to £455m, involving more than 2,500 vehicles.
The deal follows agreements struck by its rival bus and train operator Stagecoach, headquartered in Perth, to buy 470 buses for £97m.
Announced earlier this month, more than 400 of the new Stagecoach fleet are to be built by Alexander Dennis, with most of the others supplied by Volvo and Mercedes.
Free wifi
All of the fleet additions for First Bus will be fitted with free wifi on board, and nearly a third will have USB charging points, to charge phones or tablet computers.
Most are to have leather seats, and many are to have audio-visual displays showing passengers the next stop.
Most of the new buses conform to lower emission targets, bringing the firm's total fleet with green certification to more than 1000 buses.
That is seen as attractive to many of the local authorities with which First Bus works, who are pushing for improved town and city centre air quality.
Alexander Dennis Limited, or ADL, has won orders for 204 vehicles, and Wrightbus of Northern Ireland is to build 91.
The Falkirk firm is to provide 133 double-deckers and 71 with a single deck. Ten coaches are to be under its Plaxton brand, which is based at its Scarborough factory. Their chassis are to be manufactured by Volvo.
First Bus is pushing to make bus travel more attractive to travellers, with wifi soon to be available on 60% of its 6,300 buses by the end of this financial year.
Managing director Giles Fearnley commented: "We are determined to make the bus a more compelling proposition, attract more customers and grow our business.
"Ensuring that our customers travel in modern, comfortable, fit for purpose vehicles which provide added value such as free Wi-Fi and USB charging is pivotal to our customer engagement strategy and our future success."
Among the areas to be allocated the new delivery of buses will be Bristol, Cornwall, Sheffield and Doncaster.