Police Scotland in 'running man' dance challenge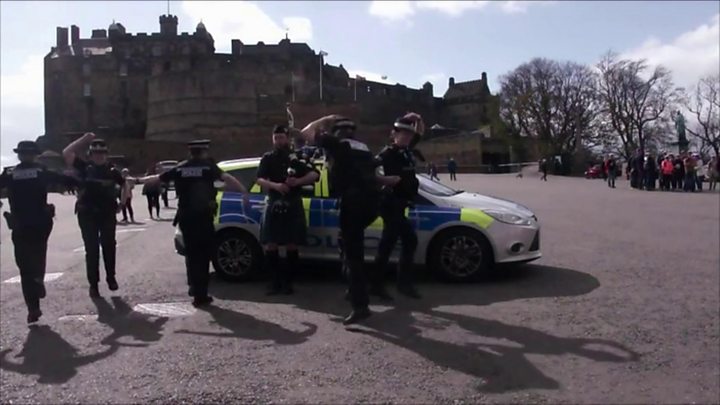 A group of Scottish police officers have become an internet hit after posting footage of their best dance moves online.
The short film shows the Police Scotland constables strutting their stuff in front of Edinburgh Castle.
Later, new recruits posted their own version - filmed in front of Police Scotland College at Tulliallan.
It came in response to a challenge which originated from police in New Zealand as part of a recruitment drive.
They released a video of officers doing the "running man" dance and challenged forces around the world to do the same.
Police Scotland posted their film on YouTube, Twitter and Facebook, after New York City police threw down the gauntlet.
The force said: "We accepted #RunningManChallenge from @NYPDnews and pass it on to @metpoliceuk @TorontoPolice and our own @PolScotCollege."
The film begins with a piper performing outside Edinburgh Castle, before he is approached by officers on foot and in a patrol car.
As the music quickly changes, the officers begin dancing around the bagpiper.
The clip had been viewed more than 325,000 times by Thursday morning.
In the video posted by the police college, dozens of new recruits are shown taking part in a drill.
When their senior officer's back is turned, Ghost Town DJ's My Boo kicks in - and the dancing begins.