Parents of Craig Hepburn call for early release review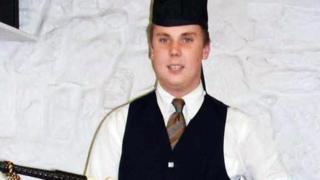 A Renfrewshire family has called for automatic early release of prisoners in England and Wales to be reviewed
It follows the murder of 19-year-old Craig Hepburn in Yorkshire in 2012.
The two men convicted of the killing were being supervised in the community after serving just half of their sentences imposed for violent offences.
Alex and Caroline Hepburn, from Linwood, said the early release policy should be reviewed to ensure other parents do not suffer as they have.
Craig Hepburn, a keen piper, travelled to the quiet West Yorkshire village of Marsden, near Huddersfield, to visit relatives, just before the 2012 piping season got under way.
After enjoying an evening in the local pub he and a friend were heading home to his uncle's house when, in a random act, they were attacked by Luke Elliott, 23, and 36-year-old Anthony Driver.
Craig was stabbed eleven times and then kicked as he lay bleeding in the gutter. His friend was also stabbed.
Out on licence
Both men had previous convictions for violence -- and each was on licence, having been released early from prison.
Craig's mother, Caroline, said she was angry when she learned that.
"Because of the assaults that they carried out previously, if they had been convicted and done their time, they wouldn't be out to do things like this to other people," she said.
"For tougher sentences given out for crimes like this, they would have to serve their whole time, and not be allowed out early.
"And if they're out on licence, they should be carrying that through as well."
Elliott, who a jury at Leeds Crown Court found guilty of murder, had actually been recalled to prison for breaching his licence conditions five months before the attack.
That sentence was for assault, and probation officers said he was at risk of causing serious harm again.
Just three months before he murdered Craig, he was re-released.
Driver, who was convicted of manslaughter, had 54 previous convictions. He too was on licence.
The National Offender Management Service (NOMS) carried out reviews of Elliott and Driver's cases - and identified a number of failures by the probation service in monitoring them.
Craig's father, Alex, said he was dismayed by what he read.
He said: "For every paragraph in that report, it ends with 'there's lessons to be learned'.
"But you'll be sitting with another family 10 years from now, and those same lessons will still have to be learned."
Review reports
The NOMS Serious Further Offence (SFO) review reports showed Driver breached licence conditions on several occasions, without sanctions or formal warnings being issued.
It concludes: "The offender was not controlled sufficiently within his licence."
The report into Elliott, who had 10 previous convictions, said the assessment of the risk he posed to the public "could have been more thorough".
NOMS made a number of recommendations but was unable to say whether these had been carried out.
A statement said: "In all cases a review is carried out to identify any lessons for the better management of future cases.
"Public protection is our priority and we will carefully consider any findings in this case."
Automatic early release for serious offences ended in Scotland in February 2016.
But the Hepburns say there should be an inquiry into the policy in England and Wales to ensure other families there do not suffer as they have.