Cervical cancer drug approved for use on NHS in Scotland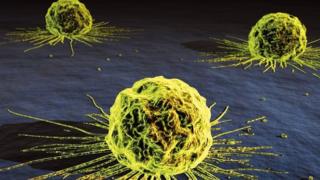 A new drug which can help women with advanced cervical cancer live longer has been approved for use by the NHS.
Avastin - also known as bevacizumab - in combination with chemotherapy, can delay the progression of the disease and prolong life by approximately four months.
Its use has been accepted by the Scottish Medicines Consortium.
Scotland is the first part of the UK to approve Avastin for routine use on the NHS.
It was previously approved by the SMC as a treatment for women with recurrent ovarian cancer.
The SMC said: "Bevacizumab (Avastin) can give patients an extra 3-4 months survival time that is very important in the context of their limited remaining months.
"As no new medicines for this condition have been licensed in the last ten years, bevacizumab was considered to represent a significant breakthrough in treatment."
A total of 309 women were diagnosed with cervical cancer in Scotland in 2013, with 88 losing their life to it in 2014.
Prof Nick Reed, consultant clinical oncologist at the Beatson Oncology Centre in Glasgow, said: "Cervical cancer is the most commonly diagnosed cancer in younger women.
"The prognosis for advanced disease or recurrent disease is poor and the symptoms are often uncomfortable and distressing for patients who have to stay in hospital for prolonged periods of time.
"This is a much awaited decision in Scotland - there have been no new medicines licensed for over 10 years and the only available treatment has been chemotherapy.
"Avastin is added to chemotherapy and delays the progression of complications and prolongs life by approximately four months."
He added: "For any mother, daughter or wife, this is an important amount of time as it allows them to continue to work, be more independent and plan for their family's future."
'Constant pain'
The SMC also approved a new treatment for patients with severe hidradenitis suppurativa (HS), a painful long-term skin condition which can leave sufferers covered with abscesses.
Up to 500 people are diagnosed with HS every year in Scotland, with an estimated 50,000 affected.
There had previously been no approved treatment, but the SMC has now approved the drug Humira, also known as adalimumab, which can reduce abscesses by at least 50% and reduce the pain sufferers experience by a third.
Sufferer Jen Napier, 33, from Alloa, said she was "thrilled" by the decision, which comes just days after the treatment was approved south of the border.
She has had HS since she was a teenager, but was only diagnosed last year with the condition which she described as being "almost medieval with plagues of boils".
Ms Napier, who works as an administrator, is in constant pain as a result of the condition, and said: "I've had numerous treatments, none of which had any impact.
"What Humira gives us is some hope that there is something that might make a difference, that will help us."
Dr Susannah Fraser, consultant dermatologist at the Victoria Hospital in Kirkcaldy, Fife, said: "HS can be an extremely painful and unpleasant condition, and we are very limited when it comes to treatment options.
"It is really good news that suitable patients in Scotland will be able to receive treatment with adalimumab which has been shown to reduce both the number of skin problems and pain."
SMC chairman Prof Jonathan Fox said: "Until now very few licensed treatments have been available for cervical cancer and hidradenitis suppurativa, so it is pleasing that the committee was able to accept bevacizumab and adalimumab for routine use for these conditions."