Flying Scotsman: Trespass warning for Scotland tour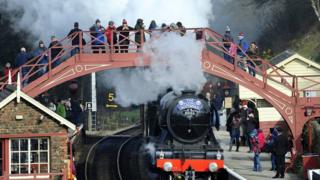 A safety warning has been issued ahead of the arrival in Edinburgh of the world-famous steam locomotive the Flying Scotsman.
It will be hauling special services in the Lothians, the Borders and Fife this weekend.
Its return to the tracks follows a 10-year refurbishment and has generated huge excitement among rail enthusiasts.
Previous tours in the north of England were marred by trespassing incidents and overcrowding on station platforms.
During the famous steam engine's inaugural run earlier this year, some over-enthusiastic fans put themselves in danger.
Network Rail had to pay out almost £60,000 in compensation when 59 train services were delayed by people encroaching on to the track to get as close as possible to the locomotive as it travelled from London to York on 2 February.
All trains on the East Coast Main Line were temporarily stopped, causing a combined total of more than eight hours of delays.
This weekend, access to the railway stations at Waverley, Tweedbank, Dalmeny and North Queensferry will be tightly controlled.
Exact timings of the Flying Scotsman's tour are not being published in a bid to reduce the chance of people disrupting mainline services.
British Transport Police have warned trespassers will face action and could end up with a criminal record and a £1,000 fine.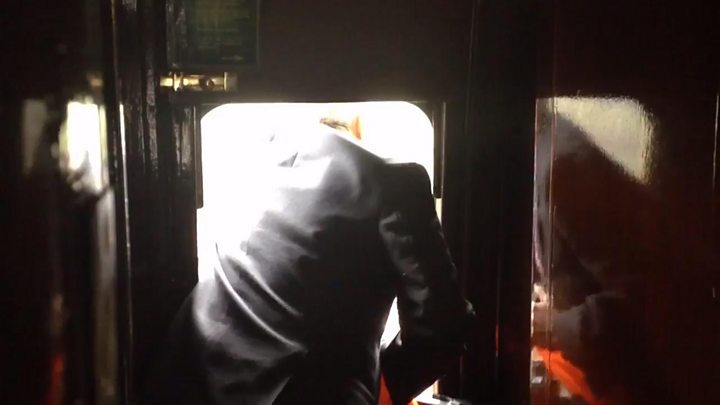 Alex Sharkey, ScotRail Alliance area director for the east of Scotland, said: "It is extremely dangerous and illegal for the public to trespass on the railway.
"During the trips to the Borders and Fife we will continue to operate a full passenger service with hundreds of other trains running on these lines throughout the time Flying Scotsman is in Scotland.
"Those who plan to enjoy seeing the steam engine in the coming days must do so from a safe position and must not enter the operational railway under any circumstances."
Insp Ricky McCartney, of British Transport Police, added: "We will take action against those caught trespassing and you could end up with a criminal record and facing a fine of up to £1,000."
Speaking on BBC Radio Scotland, Tony Miles, from Modern Railways magazine, said there were safe places to get a good photograph.
"There are plenty of places around the network where you can stand in perfect safety, behind quite low fences or on embankments, and get some fantastic views," he said.
"With a little bit of research on the internet, you can probably find plenty of advice from people on really good locations to get fantastic views, where the lights rise and it looks fantastic, and you don't need to be in a dangerous position to get the photograph."
On Sunday, the Flying Scotsman will travel along the new Borders Railway.
Scottish Borders Council echoed calls for members of the public not to put themselves in any danger.
A spokesman said: "Alongside BTP and Network Rail, the council want the public to view the iconic steam train safely and there are lots of safe places to see it and take photographs.
"However, the public is asked not to stray on to the railway and risk their safety. Stations along the route will be extremely busy, so listen to staff who are there to assist."