Teachers balloted on industrial action over workload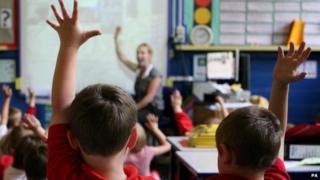 Members of Scotland's largest teachers union, the Educational Institute for Scotland (EIS), are to be balloted on industrial action.
It said it reflects growing frustration over an "excessive workload" among secondary school teachers.
They will be balloted on withdrawing cooperation with the Scottish Qualifications Authority (SQA).
General secretary Larry Flanagan said pupils and teachers were being put under pressure.
He said the increased workload was generated by SQA assessment and verification procedures.
He added: "These excessive demands are placing severe pressure on pupils and teachers alike, have been acknowledged by government and education authorities, and yet the SQA, in particular, has shown little urgency to take reasonable actions to address concerns.
"Teachers do not want to take industrial action, and have shown a great deal of patience while talks have taken place to attempt to reach a solution.
"Now that this process is at an end, with no firm measures agreed to ensure a significant reduction in assessment, the EIS has decided to move ahead with industrial action."