Gender difference in Scots cancer trends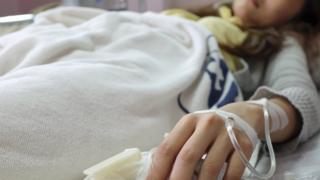 New figures suggest that the incidence of cancer has increased in women but decreased in men over the last decade in Scotland.
After accounting for the ageing population, the rate has risen by 6% for women and decreased by 3% for men.
Lung cancer remains the most common cancer, followed by breast cancer.
An ISD Scotland report said unhealthy lifestyles, extended screening and women having fewer children at an older age could contribute to the increase.
Official figures show that in 2014, 31,711 people were diagnosed with cancer in Scotland, up from 27,820 in 2004.
Chief Medical Officer Catherine Calderwood said the Scottish government's £100m cancer strategy would be crucial in dealing with that rise.
Scottish cancer figures in 2014
31,711
People diagnosed with cancer
16,183
Women diagnosed with cancer
5,307 Lung cancer cases

4,610 Breast cancer cases

3,721 Colorectal cancer cases
Thinkstock
The figures showed cancer was more common as people get older, with 75% of cancer diagnoses in 2014 being in people aged over 60.
Dr Calderwood said: "Like the rest of the UK, the number of people being diagnosed with cancer is increasing in Scotland due to people living longer.
"However it's important to note that more and more people are also surviving cancer for longer - with cancer mortality rates down 11% over the past decade.
"We are improving our ability to detect cancer and to treat it successfully but we can always do more."
She also highlighted lifestyle changes such as drinking less alcohol, quitting smoking, exercising more and eating healthily as having a part to play.
The importance of early detection was also flagged up.
---
Reaction to the figures
Elspeth Atkinson, director of Macmillan Cancer Support in Scotland, said: "An ageing population means more of us will be living with cancer and other long term conditions. The figures illustrate the need for a better support service for people with the physical, practical, emotional and financial problems cancer causes. The current system isn't working which is why the cancer plan must be delivered by the new Scottish Parliament."
Lawrence Cowan, Breast Cancer Now's policy and campaigns manager in Scotland, said: "There are many reasons behind today's figures but one thing is clear - we need to step up our efforts to tackle breast cancer. More Scots are being diagnosed with breast cancer than a decade ago and it remains the most common cancer among women. We also know that while huge progress has been made in improving survival, almost 1,000 women a year in Scotland still die from this devastating disease. That's why we need to continue to support research and find better ways to prevent, detect and treat breast cancer."
Gregor McNie, Cancer Research UK's senior public affairs manager in Scotland, said: "While these statistics show that the number of people being diagnosed with cancer is increasing, the good news is that thanks to research, cancer survival has doubled since the 1970s. And Cancer Research UK's work has been at the heart of that progress. However, we mustn't stop here. The rising numbers of people diagnosed means there is more strain than ever on cancer services and it's vital that the Scottish government acts swiftly on its £100m cancer plan and focuses resources where they're most needed."
Scottish Labour equalities spokesperson, Jenny Marra, said: "After nearly a decade of SNP government, we are witnessing failed performance on waiting times and worrying trends in screening, particularly in poorer areas. Meanwhile the SNP cancer strategy was a year overdue and months behind its equivalent in England. The long term approach to tackling the problems our NHS faces is to cut the inequalities across our communities. That's why Labour will continue to make the case to use the powers of the Scottish Parliament to invest in our public services rather than carry on with the cuts."