Stewarding of Scottish Cup final is defended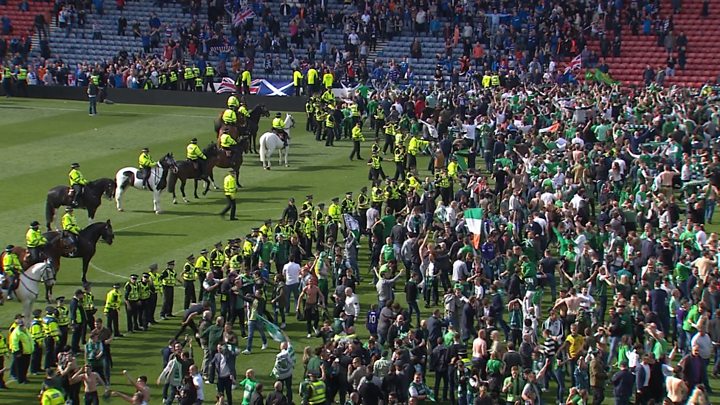 A steward at the Scottish Cup final has spoken out in defence of colleagues who oversaw crowd control at the match.
The man, who spoke to BBC Scotland on condition of anonymity, said: "We did all we could in a hostile environment."
He raised questions about the police presence at the match, which ended in violence when crowds invaded the pitch at Hampden Park on Saturday.
He said there was little stewards could do to stop thousands of "passionate and excited" fans running on to the pitch.
They spilled on to the ground after the final whistle of the match in which Hibernian beat Rangers 3-2 to claim their first cup win since 1902.
The steward, who is employed by G4S, said: "When Hibs scored the final goal of the game, the fans were obviously passionate and excited, with their team scoring the winning goal.
"You could see some sections of the fans going straight to the gates, which were shut at the time, with stewards in front.
"Obviously, the full time whistle went, they managed to get the gate open and run on to the pitch.
"I will grant that there could have been more of a police presence but when it comes to stewarding, how many stewards would they need to be able to stop, or attempt to stop, 20,000 plus excited and passionate fans?
"If the gates are manned by one or two stewards, there's no way they can stop so many thousands of fans rushing at them."
The man, who was working in an upper tier of the stadium, said he saw one line of stewards and "two or three lines of police" at the Rangers end of the park.
By comparison, at the Hibs end there was just one line of stewards and one line of police officers.
He said he saw a "small minority" of about 40 or 50 Hibs fans who went to the Rangers end of the pitch to "goad them".
"That prompted a section of Rangers fans to come past the advertising hoardings and obviously violence breaks out," he said.
'Pretty disgusting'
The steward added: "The violence only lasted about five or 10 minutes, if that. Within about 10-30 seconds of the fighting breaking out, the police were on the pitch."
Some minutes later, mounted police arrived, he said.
At one point he saw a number of people targeting Rangers goalkeeper Wes Foderingham.
He said: "I even saw one or two Hibernian fans get into the Rangers goalkeeper's face.
"I watched that - that was pretty disgusting. You do get some select few idiots who do that but, credit to the Rangers goalkeeper, he walked away from it."