Airgun amnesty: 2,300 weapons handed to police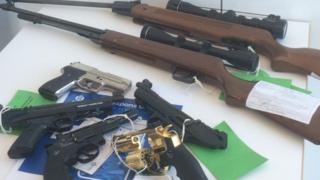 More than 2,000 airguns have been handed in during the first seven days of a nationwide amnesty.
Police Scotland said 2,301 weapons have been surrendered so far during the initiative, which started last week.
A total of 72 police stations across Scotland will accept airguns during the amnesty campaign, which runs until 12 June.
All airgun owners will need a licence for their weapon when a new law comes into force on 31 December.
After that date, any air weapon users caught without a certificate or permit could face a fine or imprisonment of up to two years.
Assistant Chief Constable Mark William said it was a "fantastic start" to the campaign.
"It's great to see so many weapons being handed in and I'd like to thank responsible members of the public for surrendering them," he added.
'Extremely encouraging'
Owners will have be able to apply to Police Scotland for an air weapon certificate from 1 July.
The cost of the new airgun licence has still to be announced, but it is widely expected to be expects it to be less than the £79.50 shotgun licence.
Police Scotland has cut the number of dedicated firearms licensing officers but community officers have been trained to deal with the increased workload that the new system will bring.
It has been estimated there could be 500,000 airguns in Scotland, with the weapons used in 182 crimes in 2013/14 - about half of all firearms offences.
The campaign to tighten airgun controls gathered momentum after the death of toddler Andrew Morton in Glasgow in 2005. He was shot in the head by a drug addict.