Call for volunteers to secure future of Scotland's canals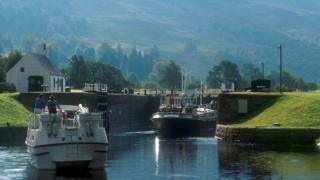 Volunteers are being urged to come forward to safeguard the future of Scotland's canals.
Scottish Canals is launching a campaign in Glasgow for engineers, stonemasons and builders to help preserve Scotland's 250-year-old canals.
A spokesman said they were also looking for lock keepers, archivists and environmental experts to join the Canal Volunteers project.
Millions of people use Scotland's 137-mile network of canals every year.
Scottish Canals, which runs the Caledonian, Crinan, Forth and Clyde, Monkland and Union canals, said it was the nation's "biggest linear park".
On Monday, volunteers from computer company Dell will join pupils from Kelvindale and St Mary's primary schools to repair mortar and operate lock gates on the Forth and Clyde Canal's historic Maryhill Locks.