Cancer patients 'positive' about care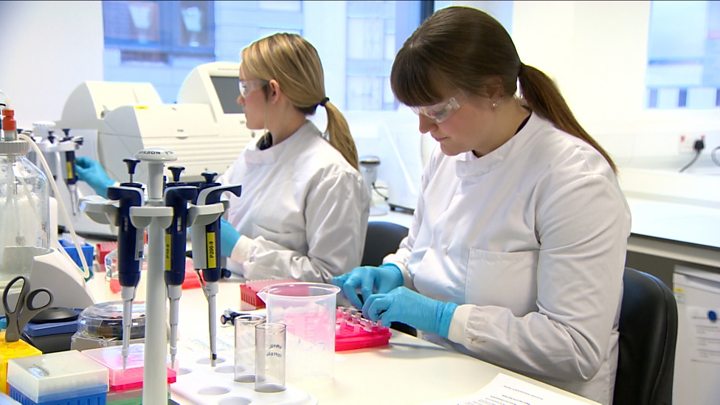 The vast majority of cancer patients in Scotland were positive about the care they received, according to a survey.
The survey of almost 5,000 cancer patients saw 94% rate their care as seven out of 10 or higher.
The survey results also highlighted the importance of patients having a care plan.
Those patients who had a care plan responded more positively across all 50 questions in the survey than those who did not.
But only 22% of those surveyed had a care plan in place.
The results also found areas where improvements could be made, particularly around helping people access support for their wider emotional, financial and practical needs.
The Scottish Cancer Patient Experience Survey was commissioned by the Scottish government and Macmillan Cancer Support.
It asked people with cancer to provide feedback on their experience of the care that they received during the different stages of their battle with the disease, from thinking that something might be wrong with them to the support they received after their acute-care treatment.
When asked to provide an overall rating of their care on a scale from 0 (very poor) to 10 (very good), 94% of patients rated their care as seven or higher.
The survey also suggested:
Just 1% of patients ranked the care they received as being between zero and three
87% of patients felt that they were always treated with dignity and respect by NHS staff
86% had confidence and trust in all the doctors treating them and 77% had confidence and trust in all the nurses treating them
84% of patients reported that they had been provided with a clinical nurse specialist
Of these, 90% received answers from the specialist that they could understand all or most of the time
But 43% of patients' family or friends were not given all the information needed to help care for their loved one at home
The survey found mixed responses regarding patients' experience of their diagnosis, with 86% reporting that they were told that they had cancer sensitively.
But 28% of patients were not told that they could bring a family member or friend with them when they were told they had cancer.
Patients were generally less positive when asked about the information they had received from hospital staff that did not relate to clinical care, with 23% who wanted it receiving no information regarding the impact of cancer on their day-to-day activities.
And almost half of patients (49%) who wanted it received no information on financial help or benefits.
Patients also reported inconsistencies in the provision of information and advice at different points during their clinical care.
Cancer strategy
Not all patients needed care and support at home, but among those that did, 54% reported getting enough care and support from health and social services during their treatment and 45% reported receiving enough care and support after treatment.
The Scottish government said the results of the survey would help to shape its new cancer strategy, which includes more than 50 actions to improve prevention, detection, diagnosis, treatment and after care for those with cancer.
First Minister Nicola Sturgeon said: "It is heartening to know that in the majority of cases, patients are satisfied with the care they receive.
"Being diagnosed with cancer can be very traumatic for individuals and their families and it is vital we provide the best possible care and support.
"We know there is more to be done and that's why earlier this year we announced our £100m cancer strategy, which makes clear the importance of listening to what people with cancer are saying about what matters to them, and acting on what they tell us."
Janice Preston, Macmillan's head in Scotland, said: "This survey shows that, without a doubt, offering patients a holistic-needs assessment and care plan is vitally important in ensuring they have a good experience of care."
Scottish Labour health spokesman Anas Sarwar said: "While the survey highlights many encouraging responses, there are very clear issues which the SNP government must address with urgency.
"Two-thirds of patients reported not being given a care plan. Waiting times from suspicion to diagnosis continue to be a cause of anxiety."