Rural bus users face pricing problems to access services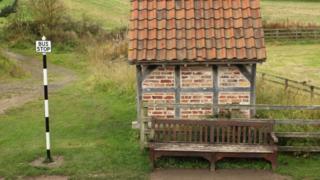 Bus users in rural areas face increased prices and reduced availability as they try to access local services, according to Citizens Advice Scotland (CAS).
A CAS report found fares vary from 7p per mile to £1.80 per mile across Scotland's bus routes.
In some areas, job seekers pay up to 15% of their income for a return trip to the nearest job centre.
One of the "main concerns" was irregular services to access health care, banks and further education.
CAS consumer spokesman Fraser Sutherland said: "Scotland's bus network plays a vital role in keeping its citizens moving and accessing essential services every day.
"However, with this report we have highlighted specific examples of where access to services can be difficult due to long distances, sparse timetables and expensive ticket prices."
The report's findings include:
38% of locations surveyed had no Sunday service that connected them with local hospitals
In remote rural areas, the mid-range cost of a return ticket to the nearest job centre was £9
Consumers in the rural areas surveyed face an average 40-minute round trip to access the nearest bank branch
Residents of rural areas were on average five miles from the nearest GP surgery
College students in remote areas on average face journey times of over an hour and at a mid-range cost of £10 return
A round trip to a local supermarket could cost someone on full-time minimum wage 5% of their weekly income.
Government figures show about 420 million bus passenger journeys are made every year in Scotland, covering over 205 million miles (330 million km).
Local authority subsidies to bus services range from £108 per adult in the Western Isles to as low as 55p in Aberdeen City.
Mr Sutherland added: "For many in Scotland's cities and large towns bus connections can be frequent and relatively affordable, while in more rural parts of Scotland we have found communities that contend with twice-daily services that can cost a substantial proportion of weekly income to make necessary journeys.
"For example, those in the remote and rural areas we surveyed paid an average price of over £9 for a return journey to the nearest job centre.
"While some jobseekers and others can receive a discount on tickets, this still represents a significant cost for those already struggling to make ends meet on a low income.
"In many areas, we found that price information was not available up front, which made it difficult for consumers to plan and budget properly.
"One of the main concerns in our research is that many people in these areas found it difficult to get regular bus services to important services like health care, post offices, banks and further education."