Scottish doctor overtime payments rise to £20m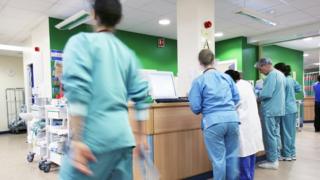 Consultants in hospitals across Scotland are being paid £20m in overtime and additional payments to do extra work, the BBC has found.
A freedom of information request revealed that one consultant in Lanarkshire received £136,000 in additional payments in 2015-16.
The British Medical Association said the issue stemmed from staff shortages.
Health Secretary Shona Robison said the £20m bill was a "small fraction" of the overall spend on consultants.
Across the UK, additional payments have increased by over a third to £168m. In Scotland the figure rose from £14.27m in 2013/14 to £20.92m in 2015-16.
The BBC asked all 186 organisations running NHS hospitals in the UK about overtime and extra payments over the past three years.
Much of the overtime work involves non-emergency procedures designed to meet waiting times targets. It is up to hospitals to negotiate their own rates for extra work, with the most lucrative ones in place for routine treatments, such as knee and hip replacements.
Consultants doing overtime in these areas commonly make £600 for a four-hour shift - three to four times what they normally get. Overtime for urgent and emergency work tends to be much lower - around £300 for a shift.
Scottish figures
Of Scotland's 14 health boards, 12 responded to the freedom of information requests.
NHS Greater Glasgow and Clyde paid out the most, with an outlay of £7,749,870 on higher rate payments for additional shifts, while NHS Orkney did not make any payments.
NHS Grampian had the greatest increase in payments, from zero in 2013-14 to £1.6m two years later.
There were also sharp increases at NHS Lanarkshire, from £1.8m to £3.4m, and NHS Lothian, from £1.3m to £2.1m.
A number of hospitals asked about the payments UK-wide said there was a shortage of consultants, meaning they had to try to get existing staff to do extra work.
They also said high emergency-room pressures had led to the cancellation of more routine treatments, increasing the need for overtime.
Dr Peter Bennie, a consultant psychiatrist and chairman of BMA Scotland, said there was no doubt that the key issue was staffing.
He told BBC Scotland's Good Morning Scotland programme: "The overall picture here is a straight-forward issue of there simply not being enough consultants on the ground to do the job.
"Government figures show 162 posts vacant for six months or more. That alone accounts for £15m in salary that isn't having to be paid by health boards and balances out quite a bit of this. So the issue for us is, and has been for some time, that there are not enough consultants to do the job."
'Mini retirement boom'
Scottish Conservative health spokesman Donald Cameron told BBC Scotland that the payments reflected a "deep systemic problem" in the NHS.
He added: "These are very disturbing figures. Not so much because of the sums that are being earned by consultants but more because it demonstrates very starkly that there are growing pressures on our hospitals and not enough staff to cope."
Mr Cameron acknowledged that the issue of growing overtime payments was a UK-wide problem, but he said it was one the SNP should have seen coming.
"Not less than a year ago it emerged that there was a mini retirement boom amongst consultants and many consultant vacancies are unfilled in Scotland - almost half of consultant vacancies remained unfilled for over six months.
"The SNP have run the health service in Scotland for almost a decade and they haven't done enough. They haven't dealt with this issue. Nicola Sturgeon's been health secretary for five years before she became first minister. They must have seen this coming, they should have seen this coming."
'Staff banks'
However, Scotland's Health Secretary Shona Robison insisted that consultant staffing was at a record high.
She rejected Mr Cameron's criticism and said that since the SNP had come to power nine years ago, waiting times had reduced and staff numbers had increased along with funding.
She said: "Sometimes there are vacancies that are hard to fill and there are sickness and maternity issues to cover, so boards sometimes do have to use people on a short-term basis."
Ms Robison said it was important to stress that overtime payments represented a "small fraction" of the overall cost of consultant staff.
She said less than 3% of the £720m a year that was spent on consultant medical staff was spent on the payments.
"We're launching a national co-ordinated programme to more effectively manage temporary staffing and that's going to help boards implement best practice, to improve the control and governance of these payments and also to work together to look at regional staff banks, for example, where staff can be deployed over different areas on NHS pay rates."
Scottish Labour health spokesman Anas Sarwar accused the SNP of "looking the other way" on vacancy rates.
He said: "Only a third of NHS staff believe that there are enough of them to do their jobs properly. Health boards across the country are facing tens of millions of pounds of cuts, but have to use expensive overtime because of staffing levels.
"This isn't the management Scots expect of the NHS from the SNP."