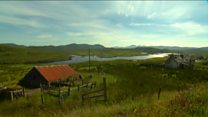 What next for the Western Isles post-Brexit?
2 August 2016 Last updated at 15:33 BST
The Western Isles have benefitted from the EU's social fund grants on major infrastructure projects.
Not everyone is happy and many fishermen believe they have been restricted by European rules.
The islands voted to leave what was then the European Economic Community in 1975. In June they chose to remain in the bloc.
BBC Scotland's Ian Hamilton has headed north west to see how the post-Brexit future is being viewed.