Cloudless Scotland snapped from space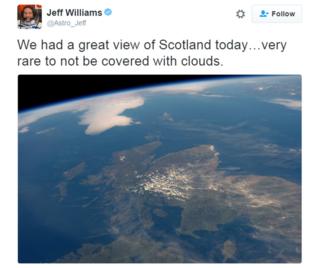 An astronaut has captured a stunning picture of an almost cloudless Scotland from the International Space Station.
Jeff Williams has been in space four times, orbited the earth thousands of times and is preparing for a spacewalk on Friday.
On Tuesday he snapped Scotland basking in some good weather, tweeting: "very rare to not be covered with clouds."
Temperatures are due to reach up to 25C on Wednesday and another good day is expected on Thursday.
Williams took his photograph on Tuesday when temperatures reached 27C in Kinlochewe in the Highlands and 24C widely across Scotland.