Life was 'never the same' after my brother's death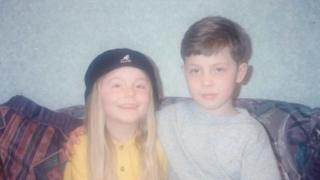 Ashley Agnew from Glasgow was ten when her big brother Gary took his own life in 1998. He was 12. Eighteen years later, Ashley is working with Childline in the hope that sharing his story will help other children.
"He was just a normal boisterous boy. He was fun, happy and always up to mischief, but he was happy," Ashley told BBC Scotland.
"We were inseparable most of the time. We would have our fights obviously, but from a very early age Gary became like my protector.
"He was always doing things for me and that was the way it was until he passed."
The family still do not fully understand why Gary took his own life. Ashley cannot remember any obvious warning signs.
"One day he came back from school early and asked to stay home over some silly reason to do with homework. He went into his room and that was the last time we saw him".
"I was young at the time. I was ten. As close as we were there was nothing that I could see. He walked me to school that morning and said he loved me the same way he did every morning and that was the last time I spoke to him."
Ashley believes her brother may have found it hard to talk about what he was going through.
"Gary was the type of person that didn't want to upset other people. As much as he was an outgoing person, he was also quite deep and he wouldn't always share his feelings.
"We would all have a group session where we would speak about things. He would talk but it makes you think, was there something deeper down that he couldn't reveal to family?"
Eighteen years have passed since Gary's death but she misses her brother every day.
"Life changes, it's never going to be the same. I went to school one day with a brother and came home and he was gone. How do you come back from that?"
Gary was discovered in his bedroom by his mum Elizabeth, which is something she will never get over.
"For many years, although she was there in person, she was gone. For a long time I almost became the parent," said Ashley.
"If he couldn't come to us, but had known about Childline, would he have picked up the phone? Would he be here now?
"I've seen the devastation that it leaves behind for family and friends and if we could stop that happening to even one child through Childline then it's been worth it.
"I watch my little girl playing in the playground and I see them all carrying on and I think, at what point does it go through a child's head that today is the end of their life."
Ashley's message to young people experiencing mental anguish is to just pick up the phone
"You don't need to know someone personally to tell them what's going on."
Martin Whelan is a senior Childline supervisor in Glasgow.
"Children and young people are under so much pressure today from internal and external pressures," he explained.
"What might be particular to one person doesn't go across the board, so what we do here is while trying not to pinpoint a cause for all young people, is to talk to that person individually and find out what it is they're worried about. Our biggest asset is being non-judgemental.
"Some young people feel they can't turn to someone at home, because their family is already under pressure and they don't want to add that.
"We are an unknown ear and unknown face that they can open up to. There is not that fear of embarrassment or being judged."
The phone number for Childline is 0800 1111.