Teachers survey finds support for National 4 exam change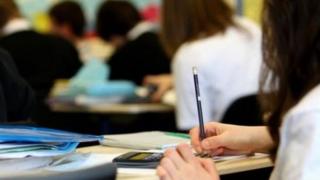 Most teachers think there should be an exam at the end of National 4 courses, according to research for the qualifications agency.
The National 4 qualifications - introduced in 2014 - rely on coursework and assessment by teachers.
N4s are usually obtained in fourth year by students who might have studied for a Standard Grade at foundation or general level under the old system.
Some critics have described them as "worthless" because there is no exam.
Detailed research was carried out by the Scottish Qualifications Authority (SQA) to help them gauge views on the suite of new qualifications. National 4 and 5 qualifications in effect replaced Standard Grades three years ago while Highers and Advanced Highers have been revamped.
Researchers carried out fieldwork in at least one school in 31 of Scotland's 32 council areas, speaking to more than 200 teachers and several hundred pupils.
'Motivate learners'
The number of presentations for National 4 awards has dropped significantly over the last two years, and the qualification has been subject to much debate.
From the start, critics claimed that without an exam at the end there was a risk that teachers, students and employers would not value the qualification.
The research found that a clear majority of teachers and members of senior management teams felt that National 4 students needed an exam at the end of the course.
Teachers commented on the need for an exam to motivate learners and many felt there was a need for differentiation so candidates received more than a simple pass or fail.
There was also "clear unease" in many schools about pressure to present students for the more advanced National 5 qualification - roughly equivalent to a Credit in a Standard Grade or a good pass in an "O" Grade - which did involve an exam.
The research did not say whether this research was actually leading to students being presented at an inappropriate level.
The document said: "Nearly all teachers to a greater or lesser degree felt pressure to mis-present learners at National 5 despite learner performance evidence indicating National 4 presentation was more appropriate.
"This could come from a variety of sources - parents and carers or SMT (senior management team) or the local authority.
"They felt this was mainly due to National 4 not being valued by parents and carers and employers. They often felt such pressure was not in the long-term interests of the learners."
The research found that about half of teachers decided which level to present candidates at after preliminary exams rather than at the start of courses or the end of S3.
The SQA is expected to publish research on just how National 4 qualifications are being used by schools and what candidates go on to do with them in the coming months.
As a general rule, the most academically able youngsters would not take National 4 qualifications unless it was felt they might be helpful in an important subject they found particularly hard - for instance, if they found maths especially difficult.
But many youngsters study for a mixture of National 4 and National 5 qualifications in S4, while some only do National 4s.
There is still no clear national picture on what those who achieve National 4s then go on to do.
Drop in presentations
The general secretary of the teachers' union, the SSTA, has called for National 4s to be scrapped in their current form but the larger union the EIS believes the drop in the number of presentations simply reflects how teachers are learning to use the new system.
SSTA general secretary Seamus Searson said the SQA research backed up what many of the union's members were saying.
He said: "Many teachers believe that many candidates at N4 have worked very hard but this not being recognised as a major achievement by the system - including parents and employers. The SSTA has sought an external element, not necessarily an exam."
He added: "It would be interesting to have figures on how many progress on to N5. Our information is that it wouldn't be a big number."
---
Added Value Units
The research also highlighted the way Added Value Units, which allow National 5 students to obtain a National 4 qualification if they fail the exam, were being used in different ways at different schools and pinpointed other important issues:
Some learners did not feel that S1-S3 was a good preparation for the senior phase
Many parents did not have a clear sense of their child's progress and what they had achieved by the end of S3. Some expressed concerns about the process for choosing subjects in S4
Some teachers teachers felt attainment in their subject was being affected by weaker literacy or numeracy skills.
---
Larry Flanagan, general secretary of the EIS union, added: "The EIS is aware that many teachers favour some level of differentiation in the N4 qualification and also a degree of external validation; we are exploring this within the National Qualifications Review Group."
The researchers also heard the views of students. A clear majority of the S4 students they spoke to did not want an exam at the end of National 4 courses, with some voicing concerns that it would add to workload and stress.
Any significant changes to the National 4 qualification would have to be agreed by the Assessment and National Qualifications Group, which brings together a wide range of stakeholders and is chaired by the education secretary, John Swinney.
A Scottish government spokesman said: "National 4 is a key part of our national qualifications and the review must be carefully thought through, taking account of the views of a wide range of education bodies and others, including parents and young people.
"The Assessment and National Qualifications Group is considering a range of issues linked to enhancing the status of National 4, and this fieldwork report will undoubtedly help inform those discussions.
"It is important not to focus solely on the possibility of an external assessment as there are other factors to consider including ensuring young people make good progress from the broad general education and are presented for the correct level of qualifications in the senior phase."