Mother warns of 'hidden' student dangers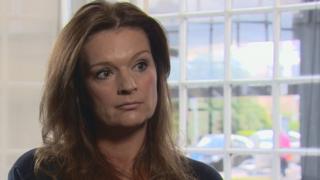 The mother of a student who killed herself at university wants parents to be told of the "hidden" dangers their children could face.
Fiona Drouet's daughter Emily took her own life in her halls of residence after a campaign of physical and emotional abuse by her boyfriend.
Ms Drouet told BBC Scotland many young students were extremely vulnerable.
She said the levels of violence against women and the drink culture at universities were big issues.
Mental health support should be put at the heart of campuses across Scotland, she said.
Her call is being support by the National Union of Students, which said "patchy" and "inconsistent" counselling services were putting young lives at risk.
Ms Drouet's daughter Emily was a first year law student at Aberdeen University.
The 18-year-old was found dead several days after she was choked and slapped by her 21-year-old boyfriend in March last year.
Her mother said mental health support services for vulnerable young students were "absolutely crucial".
She said there were many pressures on students, many of whom were away from home for the first time.
Ms Drouet, from Glasgow, said that as well as academic and financial concerns there were also issues around dealing with new social groups and relationships.
She also highlighted the levels of violence against women and the drink culture as "hidden" issues that cause problems for young adults.
"Emily was a very young 17-year-old when she went to university," her mother said.
"There was a lot of male attention and quite a high level of misogyny that we weren't aware of.
"That sounds naive as parents, but we didn't equip Emily for that level of misogyny. It was quite disturbing stuff.
"I think female students in particular face that."
Crying out
She added: "The drink culture is a huge factor too.
"I think there is a lot of encouragement for the students to go out and drink but when problems arise after that what support is there in place for the students in recognising the signs that this is a problem?"
Ms Drouet said that when her daughter first went to university it was such an "exciting time" she never thought of the potential problems.
She said universities did not warn students and parents of the dangers.
She wants all staff to be aware of the signs of deteriorating mental health and to take appropriate action immediately.
"We must recognise we have got a problem," she said.
"We can't dust over it any more, we can't ignore it, we need to support our children and give them the support they are crying out for."
The SNP MP for Aberdeen North, Kirsty Blackman, recently spoke about her own battles with mental health problems, which came to a head when she was a student.
She said: "I'm aware that the waiting times for an awful lot of students are too long.
"There is support being put in, but there is a particular issue around universities about accessing those services.
"For anyone to say I've got depression or a mental health problem, that's a really brave thing to say."
She said that people need to know how to respond to such a request, and to know the services which are available.
'Patchy and inconsistent'
The National Union of Students in Scotland recently claimed there had been a 47% increase in students trying to access mental health support services over the four years to 2015.
However, it also pointed to a 21% increase in counselling staff and a 38% rise in spending over the same period.
NUS Scotland's Luke Humberstone said mental health provision was "patchy and inconsistent across the country".
"Some institutions do great work and have a team of counsellors, while others only have a handful of staff," he said.
"If you are having to wait weeks to speak to someone it is just not good enough.
"If someone has taken that brave step of asking for mental health support it is very important that they get that support as quickly as possible."
A spokesman from Universities Scotland, the organisation representing Scotland's 19 higher education institutions, said the wellbeing of students was its "number one priority".
It said: "Our institutions provide a range of universal and specialist support services, such as student counselling and mental health mentors, to help students who suffer from mental health problems.
"As is the case with the NHS more generally, universities are faced with an increased demand for services.
"Although this signals that more students are seeking support, which we encourage, it means that universities are often required to think of new ways to meet heightened demand."