No league tables from new school assessments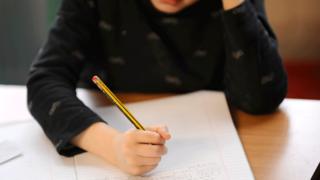 More details have been announced on how information from new assessments in schools will be used.
The new standardised assessments measure how well students are performing in numeracy and literacy.
Education Secretary John Swinney has confirmed that information on how individual schools and pupils perform will not be published.
The move has been welcomed by the EIS union, which had feared unofficial league tables.
The public data will focus on national trends - such as overall standards in literacy and numeracy or how well young people in particular groups are performing.
The tests - which are being introduced across Scotland this year - are taken by children in P1, P4, P7 and S3 and are designed to gather data.
Pupils' needs
The online tests take 50 minutes, are not marked by teachers and children do not pass or fail.
Mr Swinney said the assessments would give teachers "objective and comparable information" which would help them identify pupils' specific needs.
"We have already had very positive feedback from them about the level of detail telling them where pupils are succeeding or where they require further development," he said.
"This data is clearly useful for schools and local authorities.
"The Scottish government will have access to national level data only, to help us identify trends, including strengths and weaknesses in particular aspects of literacy and numeracy. This will, in turn, inform national policy, and drive support and improvement priorities to enhance the education and life chances of our young people."
EIS general secretary Larry Flanagan welcomed the clarification that the government would not gather pupil-level data.
He said the new assessments were "intended to serve as a diagnostic tool to be utilised by teachers to support their own professional judgement of pupil progress".
But he added: "It remains to be seen how useful teachers find the assessments in practice."
Fixed point
The government has made it clear that teachers should be able to decide when children should go through the assessments, but Mr Flanagan expressed concern that some councils could breach the guidance.
He said: "Whilst there has been clear guidance from the Scottish government that they do not expect entire cohorts of pupils to be tested at a fixed point of the year, for example, the EIS is deeply concerned that a number of local authorities have suggested they will implement a 'window' in which they expect all pupils to be assessed.
"This flies in the face of the intent of the programme, and is absolutely contrary to the guidance that has been issued by the Scottish government on how the standardised assessments should be utilised based on teachers' own professional judgement.
"Teachers were promised, also, that the new standardised assessments would replace existing testing regimes but not all councils have agreed to this. Potentially, therefore, there will be even more assessments in the system, leading to increased workload and bureaucracy."
Mr Flanagan said the EIS would oppose blanket use of the assessments at a set point, in any local authority.
"Local authorities retain responsibility for supporting a high-quality education experience for all young people - a role they are very eager to maintain following the ongoing review of school governance.
"It is essential that all local authorities demonstrate their commitment to young people's learning, and that must include a commitment to utilise the new standardised assessments appropriately rather than seeking to adopt a one-size-fits-all approach by forcing all pupils to take the assessments at the same point of time."
The plans for standardised assessments were first announced two years ago.
Raise attainment
The government always insisted this did not amount to the return of high-stakes national testing, but initially some critics feared this would not be the case.
As more details of the plans emerged, many of the underlying concerns of the unions and others in education which were expressed two years ago appeared to be addressed.
Critics had feared the testing would place an extra burden on pupils and teachers and that the data would be used to judge schools. While the government had no plan to produce so-called "league tables", critics feared there would be enough information to allow newspapers and others to produce unofficial ones.
The government argues the the information produced by the tests would help teachers raise attainment amongst schoolchildren.
The key points of the scheme include:
Each assessment should take no longer than 50 minutes to complete - but many children are likely to take less time
Teachers will not mark them. The assessments will be completed online and automatically marked by the online system
Teachers should be free to decide when children should sit them. There is no suggestion that every child in Scotland will sit them on the same day
Children will not need to prepare or revise beforehand
If a child is struggling, the questions will get easier, while a child doing well will receive more challenging questions.