Pope tells Church of Scotland Moderator of their 'true fraternity'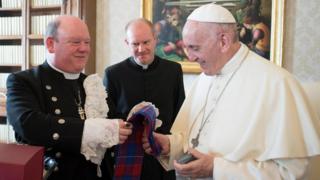 The Pope has told the Church of Scotland Moderator that their two churches now enjoy a relationship of "true fraternity".
Pope Francis met the Right Rev Dr Derek Browning for the first time at the Vatican in Rome on Thursday.
He described the relationship between the Catholic Church and the Church of Scotland as one of "mutual understanding, trust and cooperation".
Dr Browning said he wanted the churches to work together "for the common good".
The Moderator's visit to Rome comes in the year that marks the 500th anniversary of the Reformation.
Dr Browning presented the Pope with a Church of Scotland Guild tartan scarf, a basket of Scottish produce and a special edition of a book about the history of St Columba and Iona Abbey.
Addressing the Moderator, Pope Francis said: "Let us thank the Lord for the great gift of being able to live this year in true fraternity, no longer as adversaries, after long centuries of estrangement and conflict.
"This has been possible, with God's grace, by the ecumenical journey that has enabled us to grow in mutual understanding, trust and cooperation.
"The mutual purification of memory is one of the most significant fruits of this common journey.
"The past cannot be changed, yet today we at last see one another as God sees us."
Pope Francis said all Christians were brothers and sisters.
Dr Browning told the Pope that the Church of Scotland wanted both denominations to work together, particularly in the face of national and international anxiety over sectarianism, anti-Semitism and Islamophobia.
He said: "If we are in a position of privilege, it is better to build a longer table than a higher fence.
"My church seeks to ensure that the ministry of our church continues to reach out to every area of Scotland's life, and to reaffirm that the strength of our church is to be found at the local, parish level."
Dr Browning was given a private tour of the Sistine Chapel, private apartments in the Vatican, and St Peter's Basilica.
On Thursday evening, the Moderator had a private dinner with Justin Welby, the Archbishop of Canterbury, who was also in Rome.