Scotland's oldest indie record shop comes 'full circle'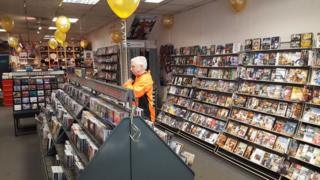 The man behind Scotland's oldest surviving independent record shop says the revival of vinyl records has brought his store "full circle" to how it all began 50 years ago.
Garry Smith was still at school when his parents bought the shop in Perth on 30 October 1967.
Concorde Music started in the former St John's Square before moving to Scott Street in the early 1980s.
Mr Smith has worked in the shop since it opened and has been there full time since he left school.
He told BBC Scotland's Stephen Jardine programme that in the early days it was easy to sell records despite the competition from large stores such as Woolworths.
But his shop has had to change with the times to survive.
"I remember going along to a hotel in Edinburgh in the 1980s where Phillips had a launch and were trying to get shops to take CDs in," he says.
"Even before that eight-track cartridges and cassettes, it is changing all the time.
"Now it has gone completely full circle and we are back to vinyl again."
Mr Smith says that about decade ago he thought that vinyl was finally going to disappear but it just managed to hang on despite the widespread move to digital downloads and streaming services.
"It's always been there but in a much lesser degree," he says.
"Then all of a sudden the record companies must have sniffed that things were changing and brought more vinyl out.
"We had got rid of our record stands and all the rest of it thinking that was it. So then we had to restock."
He said within the past year or two the shop had moved into selling second-hand vinyl albums.
"The second-hand LP market is just as buoyant as the new sales," he says.
"Plus Record Store Day, the big event once a year, has certainly helped bring vinyl back into vogue again."
In recent years, other prominent independent record stores in Scotland have finally succumbed to the pressures.
Avalanche records in Edinburgh, One Up in Aberdeen and LostChord in Glasgow have all gone in recent years.
Over in Dundee, Groucho's, which has been going since 1976, is one of the few to survive through the decades.
Toughest time
Mr Smith says: "We sell everything CDs, DVDs, vinyl, record players.
"It is possibly one of the reasons we have survived so long because we cover all bases and we cover all genres of music."
He says the toughest time for independents came when supermarkets started selling CDs.
"Record companies kow-towed to the supermarkets and let them sell at ridiculous prices and that crucified the independents," he says.
"That is why there are hardly any left in the country."
"Although we have had so much competition over the years it is only within the last few years that the competition has closed and disappeared and now we are the last man standing in the area."
Mr Smith says the shop has lots of "loyal" customers who have been visiting the store for decades.
There are also those that are drawn back by nostalgia.
"You often get parents coming in with their kids and saying 'I remember I used to come in here and listen to records in the booths and buy the vinyl'," he says.
"The kids are looking at the record players and saying 'what are they?'."
'Can't listen to modern jazz'
Despite spending half a century in a record store, building up an enviable knowledge of music of all types, Mr Smith does not listen to music at home.
"For some strange reason I have never thought of building up a collection at home," he says.
He does have a couple of CDs in the car, he says.
In the film of the Nick Hornby book High Fidelity, Jack Black's character Barry refuses to sell a customer Stevie Wonder's I just Called to Say I Love You because it is "sentimental tacky crap".
Is there anything Mr Smith would not sell?
"We will stock anything if it is saleable," he says.
"But I can't listen to modern jazz and modern classical but apart from that I'll listen to anything."