How Henry Stuart became the king who never was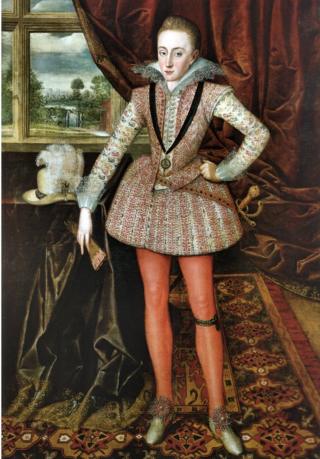 Henry Frederick Stuart seemed destined to become one of the most powerful and influential kings in history but his name is now almost unknown.
Henry was the heir to James VI of Scotland, who became the king of England and Ireland when his son was just nine years old.
The young prince was brought up by strict governors to be the perfect example of a Renaissance Protestant monarch and was looked on to secure the Stuart dynasty for generations.
But the course of history was changed by a swim in the Thames when Henry was only 18.
Prepared for the role
Henry Stuart's life spanned an extraordinary period in British history.
The Union of the Crowns, the Gunpowder Plot, colonial expansion and the age of Shakespeare were just some of the more notable episodes.
Henry was schooled to display all the outward signs of kingship, with his father even writing a book to advise him on his role - Basilikon Doron.
However, when King James died it was Henry's younger brother Charles who took the throne and eventually led England into the turmoil of the Civil War.
Turbulent times
A BBC Scotland documentary - The Best King We Never Had - looks at the life of the man who could have been England's Henry IX (His grandmother Mary, Queen of Scots was the great-niece of Henry VIII).
He was born in Stirling Castle in 1594 and, as the first child of James and his Danish wife Anne, Henry was celebrated as guaranteeing the succession of the Stuart bloodline.
The slaughter of the Scottish Reformation was just a generation away and James VI had become the first Protestant monarch of Scotland.
The country was still divided though and many Catholics longed for a return to the old faith.
Relations with England were also tense.
Only seven years before Henry's birth, England's Tudor queen, Elizabeth, executed her cousin Mary, Queen of Scots.
Enforced separation
King James believed Henry needed to be kept safe and, at just days old, he was taken from his mother and fostered into the care of the Mar family.
They were the hereditary keepers of Stirling Castle and historically the guardians of Scottish princes.
Queen Anne took this enforced separation bitterly and the Mars became her sworn enemies.
Historical consultant Sarah Fraser says: "Anne is a heartbroken, grieving mother and she set her will on getting him back."
Henry bore the weight of great expectations and was brought up in an intense atmosphere with a governor and tutors chosen by his father.
The men responsible saw themselves as preparing a Protestant king who could eventually take over from Elizabeth, uniting the thrones of England and Scotland and being a bulwark against other religions.
In March 1603, Elizabeth died and signalled that James was to be her successor.
The king's intention was to quit Scotland with his queen and take up the English throne as soon as possible, leaving Henry in the continued custody of the Mar family.
Anne, who was pregnant, delayed her journey to London and used James's absence to get her child back.
"No sooner has the dust settled behind James's disappearing hooves than Anne comes galloping to Stirling and demands her son," says Ms Fraser.
"She has waited 10 years. Ten years of Henry being this rope in a dynastic political war.
"They try to deny her but you cannot deny 'the Queen's majesty in an interesting condition'.
"She goes ballistic. She beats her belly and starts to bleed, inducing a miscarriage."
Protestant future
The family's journey to London was halted by the plague and it took nine months before it was considered safe enough for the precious young prince to be allowed to travel into London.
When King James finally arrived he enjoyed a honeymoon period but the question of religion soon began to cause problems.
James angered Puritans by keeping the Anglican Church as the state religion and Catholics feared his Protestant upbringing would bring more punishment for them.
When Guy Fawkes tried to blow up the opening of parliament on 5 November 1605, he wanted to "blow back the beggarly Scots to their native mountains" - and that included the young Prince Henry as well as his father.
Henry was 11 by this time and he became obsessively interested in military skills to help him defend the Protestant faith.
By 1610, when he was 16, Parliament gave its consent for Henry's investiture as Prince of Wales.
It was a quasi-Coronation, costing the equivalent of £10m in today's money, that displayed Henry's rising power and status.
He continued to boost the image of himself as a great Renaissance prince, employing agents to seek out treasures to adorn his court.
He bought up whole collections of works of art, coins, books, antiquaries and sculpture, many of which are kept in Windsor Castle.
Henry also backed a bid to establish an overseas colony on the North American coast.
The settlement was established in Virginia at a place named Henricus.
Protestant cause
Across Europe, Protestants saw Henry as "the coming man," says Sarah Fraser.
She says there was pressure from Europe for Henry to go on a crusade and lead the Evangelical Union of Protestant states.
They were worried that Spain was reviving and it wanted to "re-Catholicise Europe", she says.
Henry longed for his father to intervene in the religious politics of Europe for the Protestant cause but James was a peacemaker with no appetite for war.
And then in October 1612 tragedy struck.
At the age of 18, the man who had been prepared for kingship all his life was taken ill after a swim in the Thames near Richmond.
His symptoms suggest he had water-borne typhoid fever.
On his death, the whole nation went into shock and thousands of people lined the streets to watch the funeral procession to Westminster.
It was too much for his parents, who could not bear to attend.
It was left to Henry's brother the 10-year-old Charles to be chief mourner.
Henry's legacy
After the funeral it is almost as if Henry was written out of history.
Sarah Fraser says James "promised a big sepulchre for Henry but he never builds it".
"Henry is put in with his granny, Mary Queen of Scots," she says.
James dismantled Henry's legacy as far as he could, moving away from the radical and puritan Protestantism of his son.
Charles eventually inherited the throne 13 years later, having had little of the preparation Henry had for the role.
His reign ended with the English Civil War and the king being executed, sparking a century of tumult and conflict.
It is one of history's unanswerable questions: 'What if Henry had been king instead?"
The Best King We Never Had is on BBC Two Scotland at 21:00 on Thursday 30 November.