Ofcom examines new BBC Scotland television channel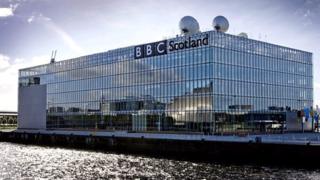 Broadcasting regulator Ofcom has started examining the BBC's proposal for a new TV channel for Scotland.
The BBC's own governing board has decided the channel, which was announced in February, passes its Public Interest Test.
The regulator must now rule on "any possible adverse effects on competition".
The final Ofcom decision on the new channel is expected in June 2018 and it could start broadcasting in the autumn.
The BBC's submission to Ofcom said the new channel, to be called BBC Scotland, will have:
A programme budget just over £32m per full year
A news programme (shown at 21:00 on weekdays) covering "international, UK and Scottish stories, told from a Scottish perspective", with shorter bulletins at weekends
New programmes that reflect Scottish life, including the opportunity to premiere some new comedy and drama
Repeats and archive programmes - about 50% of shows on the channel will be repeat material
BBC Scotland would take the place currently occupied by BBC Four on electronic programme guides in Scotland
BBC Four would move to a less prominent slot on the EPG in Scotland
Core broadcast hours every day from 19:00 until midnight
The channel will broadcast from 12:00 to allow broadcasting of live political and sporting events, as well as other special events when required
BBC Scotland would be available on the main terrestrial, satellite and cable platforms in Scotland, as well as via satellite and iPlayer in the rest of the UK.
Ofcom said the planned changes could have "a significant impact on competition in the wider media market".
It said the impact could be positive, encouraging competition and stimulating demand and innovation.
However, there was also the potential that the changes could crowd out investment from third parties, with negative consequences for audiences.
Ofcom said it would analyse the case put forward by the BBC, conduct market research of audiences in Scotland and review evidence from potentially affected stakeholders.
It said it would carry out an initial assessment within six weeks.
The regulator will then decide whether to undertake a more detailed review.
Its provisional view will be published in March/April 2018, with the final decision by June.