Scotland's papers: Brexit deal 'chaos'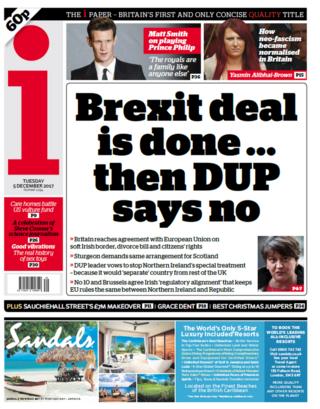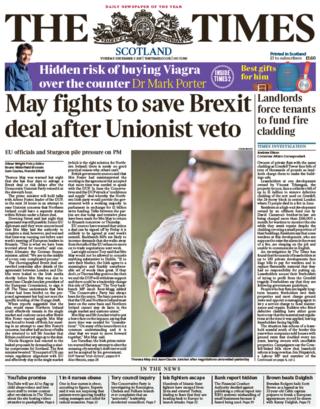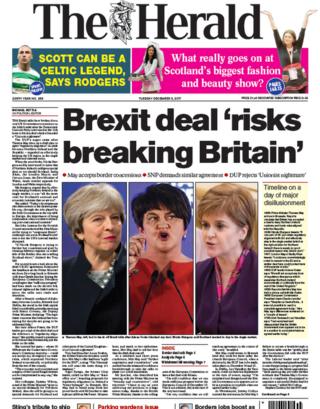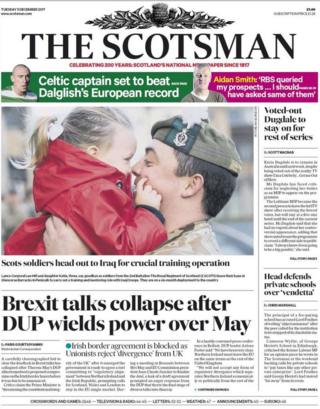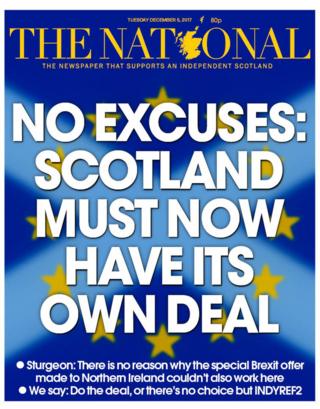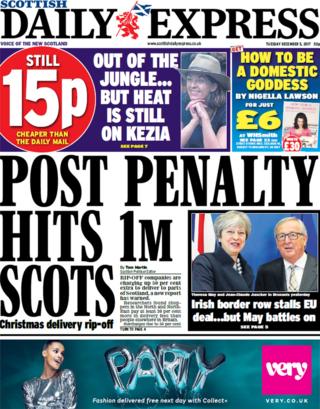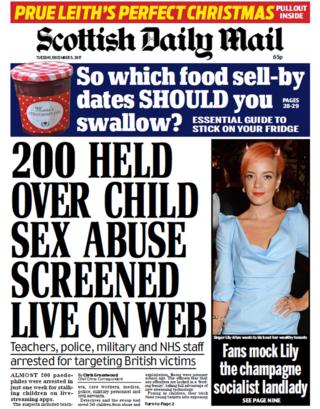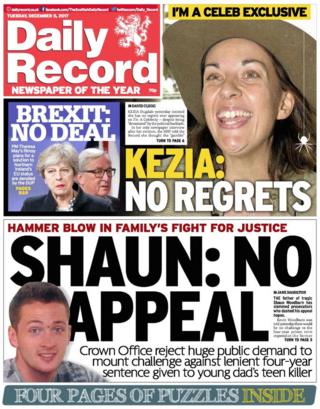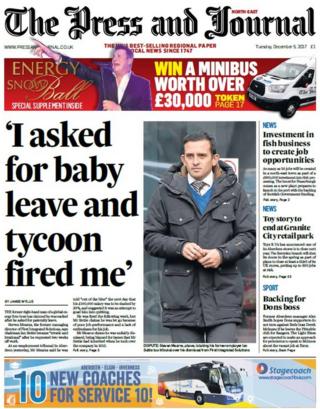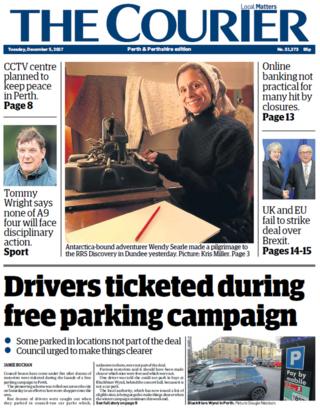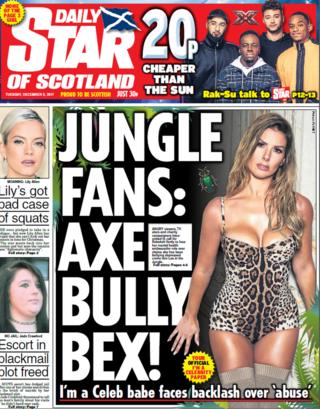 Many of the papers focus on the last-minutes failure of Brexit talks on Monday, when the DUP voiced their opposition to a deal on the Irish border.
It was an "extraordinary day in Brussels", according to the Scottish edition of the Daily Telegraph, which reports that Theresa May returned home empty-handed after miscalculating the DUP's response.
The i reports that the prime minister was "within touching distance" of reaching agreement before the the DUP pulled the plug amid concerns that the UK was making too many concessions on the Northern Ireland issue.
Ms May has been warned she has four days to save the Brexit deal, according to the Scotland edition of The Times. It says she will hold talks with DUP leader Arlene Fraser over the next 24 hours in an attempt to ease Unionist concerns.
The Herald reports that a draft plan which would effectively keep Northern Ireland in the single market and customs union was a "Unionist nightmare". It adds that Nicola Sturgeon insisted that if Northern Ireland could get a special deal, so too could Scotland.
The first minister said there was "no good practical reason" for Scotland to be denied a similar deal, The Scotsman reports - and her her call was echoed by London mayor Sadiq Khan and Welsh First Minister Carwyn Jones.
The National uses its front page to call for Scotland to have its own Brexit deal. In a leader, it asks: "If Scotland wants to remain in the single market then, quite frankly, why can't we?"
If the UK government refuses such a request, the paper says there is only one option - a second referendum on Scottish independence.
Meanwhile, the Scottish Daily Express leads on delivery charges, reporting that some companies are charging up to 50% extra to deliver to parts of Scotland.
Teachers, care workers, police officers and civil servants were among 200 people arrested in one week for grooming children online, according to the Scottish Daily Mail.
The Daily Record runs an interview with the father of Shaun Woodburn, after prosecutors told him they would not be appealing the four-year sentence imposed on his son's killer.
The former managing director of a global energy firm claims he was sacked after he asked for paternity leave, according to the north-east edition of The Press and Journal.
Dozens of motorists were ticketed during the launch of a free parking campaign in Perth, according to The Courier.
The Daily Star reports on calls to remove I'm A Celebrity star Rebekah Vardy from her role as a mental health ambassador.