Paisley awaits City of Culture decision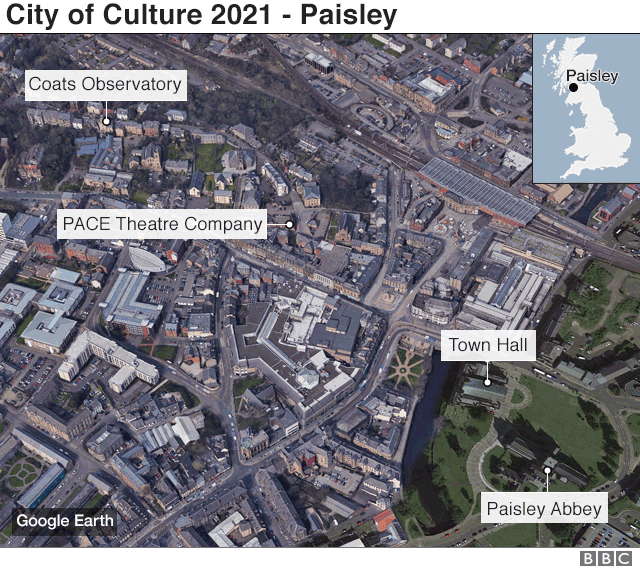 Paisley will find out later if it will be UK City of Culture 2021.
The UK government's Department for Digital, Culture, Media and Sport said the winner would be revealed on The One Show on BBC One.
The show will come from Hull, the current city of culture, and minister John Glenn will announce the winner between 19:00 and 19:30.
Paisley has been named on a shortlist of five, which also includes Coventry, Stoke-on-Trent, Sunderland and Swansea.
The town of Paisley has left a pretty big impression on the world and has a rich cultural pedigree. Some of the highlights include:
The Paisley Pattern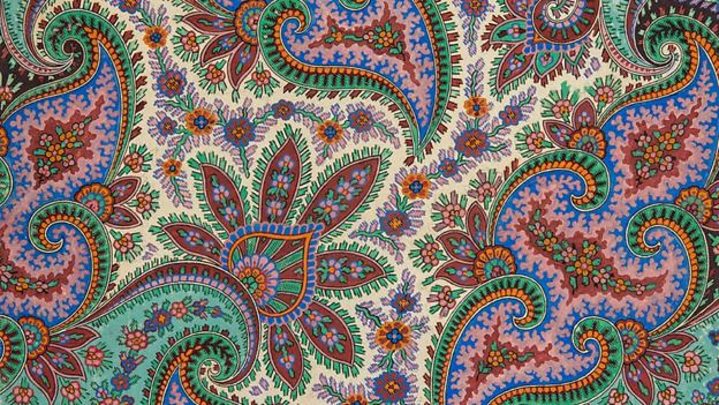 It is a global icon that many people don't actually know originates in the west of Scotland town. In the early 19th Century, the weavers of Paisley became the foremost producers of exotically patterned, delicate woollen shawls, which were originally from Kashmir.
The shawl went out of fashion in the 1870s, but the pattern that had decorated them is still popular around the world.
Pop stars and film stars
People from Paisley are known as "Buddies" - thought to be a variant of bodies. Well-known Paisley buddies include multi-million-selling singer-songwriter Paolo Nutini and Hollywood star Gerard Butler.
Musician Gerry Rafferty grew up in the town before going on to write and perform classic hits such as Stuck in the Middle with You and Baker Street, with its unforgettable saxophone intro. He also produced The Proclaimers' first single, Letter from America, in 1987.
Youth Theatre
Paolo Nutini also attended PACE Youth Theatre, the largest youth theatre of its kind in the UK with a membership of more than 2,000. It is also credited by Game of Thrones actor Richard Madden and Hollywood star James McAvoy with kick-starting their careers.
The Doctor Who connection
Former Doctor Who star David Tennant moved to Paisley as a child, with his Church of Scotland minister father. He made his professional acting debut while still at Paisley Grammar. Meanwhile, Doctor Who's chief writer Steven Moffat, who is also responsible for TV's Sherlock, is also from Paisley.
Youngest MP
In politics, Paisley hit the headlines in 2015 when Mhairi Black became the UK's youngest MP in hundreds of years when she won the Paisley and Renfrewshire seat, at the age of just 20.
In her maiden speech, she referred to the history of her constituency, pointing to the fact that Scottish national hero William Wallace, who fought against English rule, was thought to have been born in Elderslie, just outside Paisley, and educated by monks at the town's abbey.
Listed buildings
Paisley town centre has the highest concentration of listed buildings anywhere in Scotland outside Edinburgh. These include the historic Anchor Mill and Paisley Abbey. The Abbey is more than 850 years old and contains the tomb of Marjory Bruce, daughter of Robert the Bruce.
Alien gargoyle
Among the intricate statues on the outside of Paisley Abbey is a gargoyle that appears to have been modelled on the monster from the 1979 Ridley Scott movie Alien. It is believed to have been carved by a rogue stonemason who was restoring the medieval sculptures in the early 1990s.
Cash machines
The man who first patented automated cash machines that use Pin numbers was from Paisley.
James Goodfellow lodged his patent in May 1966, more than a year before the first cash machine was ceremonially opened in a blaze of publicity.
Mr Goodfellow was not recognised for his invention for years but his plastic card and Pin became the forerunner of the system we recognise today.
Legal precedent
Paisley was the location for the landmark "Snail in a Bottle" legal case. In 1932, May Donoghue visited the Wellmeadow Cafe with a friend, and was served a bottle of ginger beer containing a dead snail. She fell ill and successfully sued the manufacturer, thus creating the modern concept of negligence.
Burns club
Paisley Burns Club was founded in 1805 and is the world's oldest formally constituted Burns Club. The club meets in its premises in Queen Street - a cottage once owned by Paisley's world-famous poet and songwriter Robert Tannahill, who founded the club.
Another literary link is Iain Banks' novel Espedair Street, which is set in the town. To celebrate the book's 30th anniversary Paisley held its first Banks Supper in October.
Queen's Sculptor
Paisley is home to the Queen's Sculptor in Ordinary in Scotland - also known as Sandy Stoddart, one of Scotland's finest sculptors. His works include statues of Adam Smith and David Hume which stand in the Royal Mile in Edinburgh.
Museum treasures
Paisley Museum's collections are described as "internationally-significant"' by experts. They include the world's largest collection of Paisley Pattern shawls.
There is also artwork from the world-renowned Glasgow Boys and one of Scotland's best collections of studio ceramics.