Giant aircraft carrier cake celebrates warship commissioning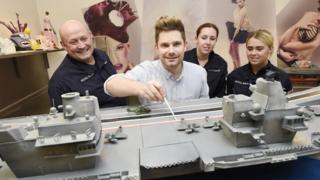 A giant cake modelled on Britain's largest warship has been presented to the Queen.
The 8ft-long (2.44m) creation took centre stage at the commissioning ceremony for the Royal Navy's new aircraft carrier in Portsmouth.
An Edinburgh cake designer created an edible replica of HMS Queen Elizabeth for the event.
It took more than 100 hours to complete, and required 7kg of flour as well as 160 eggs.
Award-winning bakers 3D Cakes were commissioned to create the scale replica of the £3.1bn warship in February.
As with the real ship, the cake was assembled in Scotland, then moved to Portsmouth.
It was presented to the Queen at the ceremony to mark the ship's official entry into military service.
David Duncan, founder and lead designer of 3D Cakes, said it took his team 10 hours to transport the cake to Portsmouth intact.
"We had to stop every hour or so to check that nothing had snapped or broken off", he said.
"We transport a lot of big novelty cakes down this way and sometimes that happens, but thankfully the cake got here in one piece and there wasn't anything to repair."
'Best I've ever seen'
Mr Duncan got some help on the cake from Navy chefs Jessica Mycroft and Aaron Wright from HMS Queen Elizabeth, who gave first-hand insight into the look and feel of the ship.
The cake is so heavy it requires eight people to move it.
Warrant Officer 1st Class William Shepherd, of the Royal Navy, said: "What they have managed to create is outstanding, a real work of art.
"I've been in the Royal Navy 28 years and I genuinely believe this is the best commissioning cake I've ever seen.
"It's definitely representative of the ship and all of its elements."
The youngest crew member serving on HMS Queen Elizabeth had the honour of cutting the cake.
Steward Callum Hui from Lynton, Devon, began his basic training in March, passed out in June and then joined the Royal Navy's future flagship in October.
The 17-year-old sliced the cake with a sword during the commissioning ceremony, helped by Dr Karen Kyd.
"I am excited to say the least," he said. "This is my first ship, straight out of training, and just to have the honour of cutting the cake on commissioning day - it is exciting stuff."