ScotRail fare increase protests held by RMT union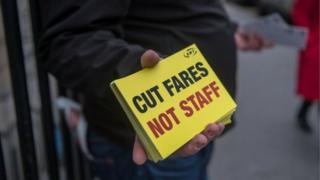 Transport union the RMT has held protests at train stations in Scotland against the increase in rail fares.
Demonstrations have taken place in Glasgow, Edinburgh, North Berwick and Dunbar as many commuters returned to work.
ScotRail fares are to go up by 3.2% on average, with peak commuter fares increasing by 3.6%.
ScotRail say that the price rise means more can be invested to make "the best railway Scotland has ever had".
Union members leafleted passengers on Wednesday, calling for public ownership of trains.
Michael Hogg, the union's Scottish organiser, said that the increase in costs for travellers is unacceptable.
He told the BBC's Good Morning Scotland programme: "Our view is simple - we are paying more but getting less safety back.
"Essential rail maintenance and engineering is being cut, meaning a worse and a less safe railway."
Mr Hogg added that the increase in prices was not reflected in the quality of service offered on the Scottish rail network.
He said: "Trains need to be cancelled, trains are being overcrowded and it is unacceptable when you have a massive increase in fares of 3.6%."
Peak fares are pegged to the retail prices index (RPI), with the Scottish government currently limiting rises in off-peak fares to RPI minus 1%.
Abellio ScotRail says that 85% of their revenue comes from fares that are set by the government.
The company says that, despite issues, they are the best-performing rail operator in the UK.
Angus Thom, ScotRail's engineering director, said: " I think it's important that we look at the Scottish railway right now and the investment put in.
"In 2018 we will start to see 70 new class 385 Hitachi trains on the Scottish network which will transform what our customers will see in the central belt.
"We will also see six high-speed trains enter service which will further transform journeys customers make between our big cities."
Mr Thom added that all of the money made from the fare rise will be put back into ScotRail and their services.
He insisted that safety will not be affected or any cuts made.
"I can categorically say that no cuts are being made right now", he said, " We run a safe network in Scotland and are one of the best-performing in Europe.