The Scots scientists on a nightshift Arctic expedition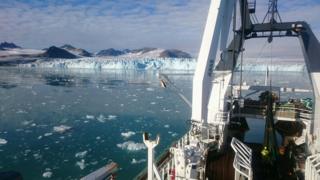 An international group of researchers is setting off on a voyage to unlock the dark secrets of the Arctic.
The team on board the Norwegian research vessel Helmer Hanssen includes scientists from the Scottish Association for Marine Science (Sams) at Dunstaffnage near Oban, as well as Edinburgh and Strathclyde universities.
They want to build a clearer picture of the physical, chemical and biological changes which are happening in the relatively unexplored Arctic winter.
Robot helpers
The two-week cruise will require the ability to work at night, whatever the hour. At this time of year in far northern latitudes, the polar night is continuous.
Even in Tromso in northern Norway, the first sunrise of 2018 is not until 15 January. It will herald a "day" that is only 47 minutes long.
By the time the RV Helmer Hanssen reaches 78 degrees north in the Barents Sea there will be only continuous polar night.
The vessel is named after the Norwegian pilot and polar explorer Helmer Hanssen, who took part in three of Roald Amundsen's polar expeditions. On the second of these he was among the first people to reach the South Pole.
Among the array of scientific tools on board his modern namesake will be a small flock of robotic underwater gliders which will continue the survey long after the scientists have returned to port.
These seagliders have been developed at the Sams Marine Robotics Facility and do not have conventional propulsion.
They use a "buoyancy engine" which changes their density and shifts the centre of gravity to send them diving and rising through the top layer of the ocean.
When they are near the surface they transmit their data back to base by satellite.
A basic suite of sensors - temperature, depth, salinity, oxygen and chlorophyll - is enough to detect features like plankton growth while keeping power consumption to a minimum.
That means they can keep gliding for months before being recovered.
Prof Finlo Cottier of Sams says relatively little research has been done in the Arctic in winter.
"If you look at the distribution of time spent in places like the Barents Sea, it's very, very biased towards summertime. It's a much more pleasant experience in the summer.
"There are big gaps in our knowledge in the winter and particularly in the transition from winter into spring. That's a really important time when the light reappears, when growth in the water takes place."
Prof Cottier's research is part of the Changing Arctic Ocean programme, funded by the Uk's Natural Environment Reseacrh Council (Nerc).
This is the first of three research voyages. In April, that Arctic spring will be studied.
The third voyage is scheduled for June, when the Arctic receives its compensation for the long, long winter nights: 24-hour sunshine.