Recruitment problems 'worsen' for Scottish firms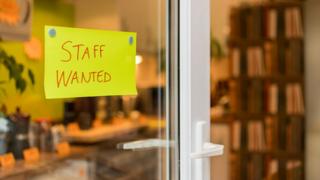 Recruitment difficulties have continued to worsen for a number of key sectors in Scotland, according to a survey.
The Scottish Chambers of Commerce found manufacturing, tourism and financial and business services were worst hit.
The latter two sectors ran close to survey records for levels of hiring difficulty.
The report said recruitment challenges and concerns over investment levels suggested growth may remain fragile in the months ahead.
Neil Amner, chairman of the Scottish Chambers of Commerce economic advisory group, said: "Many sectors are continuing to invest in training in an attempt to retain and upskill their existing staff, but it is clear that businesses are finding it challenging to fill vacancies.
"This continues to emphasise the need for government to continue investing in our talent and skills base through initiatives including Developing the Young Workforce and Foundation Apprenticeships.
"In addition, the need for a practical immigration policy to arise from the Brexit negotiations, which puts business first, is made even more critical by these conditions."
On a positive note, the quarterly economic survey, produced in collaboration with the University of Strathclyde's Fraser of Allander Institute, found growing optimism within manufacturing and financial and business services firms.
There were also signs of an "encouraging" fourth quarter of 2017 for the retail sector, with sales and cash flow reported as having improved over the previous three months.
Similarly, activity in the construction sector strengthened.
In contrast, tourism saw "a marked downgrade" in optimism, following a strong couple of years.
'Positivity'
Mr Amner said the results of the survey suggested that Scottish businesses were "continuing to display positivity in an uncertain economic environment".
He added: "Firms remain concerned about a range of issues, however, with over 87% of manufacturers anxious around the rising costs of raw materials and its effect on their prices.
"Further, the fact that over half of tourism respondents indicating business rates as their primary concern, in addition to 40% of business services firms citing taxation, suggests that the debate on income tax and the wider tax mix in Scotland will continue to be of interest beyond the Scottish budget's parliamentary approval process. "