New Scottish GP contract gets BMA go-ahead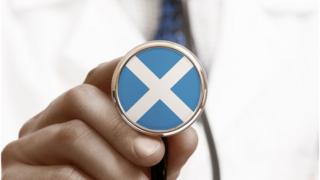 The British Medical Association has decided to implement the proposed new GP contract in Scotland.
It follows strong backing in a poll of family doctors which found 71.5% in favour of the new deal.
BMA Scotland said it would reduce workload and improve recruitment, although many rural doctors raised concerns about income and expenses.
The Scottish government described it as the biggest reform of GP services in Scotland in more than a decade.
Analysis by BBC Scotland health correspondent Shelley Jofre
One in five GPs will be better off as a result of this deal. From April 2019, no full-time GP partner will earn less than £80,430 a year.
An extra £23m is being invested to ensure no practice loses cash as a result of the way funding will be allocated in future. With around one in four GP posts currently vacant, this should go some way to making the profession more attractive to medical students.
We've seen an increasing number of practices being handed back to health board control as GPs retire and younger doctors reject the financial risk involved in becoming a partner. Every practice that owns its premises will get the chance to benefit from interest-free loans in the next five years.
The benefit to patients should be that - by boosting GP numbers and giving them financial stability - consultations will be longer. But we will also have to get used to seeing other healthcare professionals.
The GP is being rebranded as an "expert medical generalist" who will provide clinical leadership but increasingly won't be the person you see for more routine care.
Dr Alan McDevitt, chairman of the BMA's Scottish GP committee, said the agreement, which will start from 1 April, was a basis for improvements in the service.
He said: "I truly believe that this contract offers stability and security of funding for practices in Scotland and will help to reduce the pressures of GP workload and improve GP recruitment and retention."
Rural concerns
He acknowledged that some doctors in rural areas had reservations about the new contract, but said a working group would look at these issues.
"We have heard the concerns that they have raised with us, particularly around how additional services and health professionals will be provided in rural areas and their concerns about the income and expenses guarantee," he said.
"A short-life working group tasked with providing solutions so that the contract is delivered in a way that works well for rural areas will be established, which will also look for further ways in which rural general practice can be supported.
"This contract offers something to GP practices in every part of Scotland and I hope that young doctors will be encouraged by the direction we are going in to choose a career in general practice."
The Scottish government said the contract - backed by £100m of funding - would ensure patients get the support they need from an extended community healthcare team led by GPs and including nurses, physiotherapists, community mental health workers, paramedics and pharmacists.
Health Secretary Shona Robison said: "This new contract, which is a historic joint agreement between the Scottish government and the BMA, will ensure that GPs are able to spend more time with patients and less time on bureaucracy.
"It will cut doctors' overall workload and make general practice an even more attractive career prospect."
'New direction'
The Royal College of General Practitioners Scotland said the profession had voted to accept a new direction of travel for general practice.
RCGP Scotland chairwoman Dr Carey Lunan said: "It is no secret that general practice in Scotland has been facing mounting challenges for some time, compounded by an ever-increasing workload and a reducing workforce.
"The launch of the new contract and the polling of the profession has not been without its challenges and many GPs, particularly in remote and rural and in deprived urban practices, have raised concerns about the impact of the proposed changes and how this will affect delivery of patient care in their communities.
"However, many have also recognised the opportunities that this contract potentially offers to sustain and rebuild the profession that is at crisis point in many areas across the country."